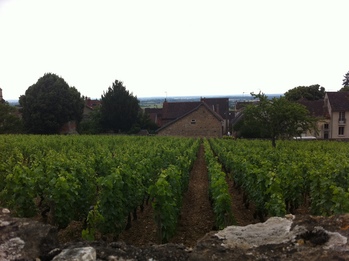 COTES-DE-BEAUNE - VOLNAY and POMMARD Thomas Bouley's domaine, which has been in his family for four generations, now consists of 12 hectares in Volnay, Pommard and Beaune. The winery is located underneath his house on a steep, narrow street in the village of Volnay. The house was originally built by a retired railroad engineer, and the cellars resemble train tunnels. Thomas' father, Jean-Marc, took over the domaine in 1985 and significantly expanded the holdings, buying choice parcels in Volnay and Pommard. He immediately attained international acclaim for his exciting, dramatic Pinot Noirs. Today, Thomas Bouley makes wines from 11 different appellations. He aims for maximum extraction of color, flavor and aromas to yield wines that are lushly fruity, yet balanced and complex.
The 2002 vintage marked a turning point at Domaine Thomas Bouley. A number of positive, long-planned developments happily coincided with a superb vintage and today father and son share in the vineyard and winemaking tasks. Thomas brings a new vision of quality, influenced in some part by his experiences in California and New Zealand. Together, the Bouleys continue the essential work in the vineyards to enhance the quality and maturity of the grapes. Bouley's soils are healthier than ever, as they have not been treated with chemical products for over 8 years. Pruning methods and training of the vines have been adapted to reduce yields to 6-8 bunches per vine, each placed to enhance exposure to sun and ventilation. Bouley aims to have his vines produce less fruit naturally. To achieve this, he has eliminated fertilization, encourages grass between the rows, plows regularly, and trims the upward push of the vines (rognage) very late in the season, thereby diminishing the amount of resources available in the plants for the production of grapes. The result is riper and naturally healthier fruit come harvest time.
Turning indoors, Bouley père et fils work together in their newly-renovated and expanded cellar (a few rows of the Clos de la Cave were sacrificed to make room for the expansion). Improved working conditions and humidity control made for more vivid, pure wines. Finally, Bouley increased the number of new oak casks to 30-70%, depending on the wine.
The results are truly brilliant, marking a new level of excellence for the domaine. Jean-Marc's goal, when he began with 2 hectares in 1974, has now been attained: to bring his estate to the level of the very best in Volnay and Pommard.
Jean-Marc Bouley Website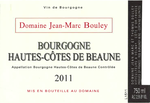 Hautes-Côtes de Beaune Rouge
Bouley's unique Bourgogne Hautes-Côtes de Beaune Rouge comes from a south-facing vineyard located at the top of the commune of Volnay, at an altitude of 300 meters. The vines are 30 year old. Bouley harvests late and makes the wine in the same manner as his other reds. It is aged for 12 months in barrels with 15% new oak. This is a wine of intense, bright and succulent Pinot Noir character and exceptional complexity.



Volnay 1er Cru – Clos des Chênes
The Volnay 1er Cru Clos des Chênes is one of Bouley's masterpieces. It comes from two parcels in the upper part of the vineyard, exposed to the south-east on a limestone-lay soil with a stony surface. 60% of the vines are 54 year old, the remaining 34 year old. Bouley gives this cuvée a three week cuvaison period and ages it in oak casks (with 50% new oak) for 20 months. It is very full and opulent with dark cherry and dark chocolate flavors, and a long-lasting finish. The Clos des Chênes requires at least 3-5 years of cellaring, due to its intense character.


Pommard 1er Cru Les Rugiens
The Pommard Les Rugiens comes from two parcels, one with 70-year-old vines, the other with 30-year-old vines. The parcels are located in the upper part of the Rugiens vineyard on a thin soil over volcanic rock. This cuvée gets a three week cuvaison period and ages in oak casks (of which 1/2 are new) for 16 months. It is Bouley's most structured Pommard, with complex wild raspberry, black-cherry and spice flavors. It merits to age for 5 or more years in bottle for its components to mature into perfect balance.


Pommard 1er Cru Les Fremiers
Bouley's Pommard 1er Cru Les Fremiers comes from a parcel with 40 year old vines on deep clay-limestone soil. The grapes here are small and very concentrated, due to persistent millerandage. These factors give this wine its amazing level of lush, concentrated fruit with a backbone of ripe, sweet tannins. Bouley gives his Pommard Fremiers a three week cuvaison period and ages it in oak casks (of which 1/2 are new) for 16 months. It is the most sumptuous of Bouley's Pommards.