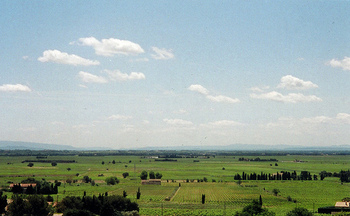 CAIRANNE
One of the important estates of the southern Rhône, Domaine Rabasse-Charavin produces a range of fine wines from its 40 hectare of vineyards spread over the communes of Cairanne, Rasteau and Violes. The estate is run by Corinne Couturier, with the help of her daughter Laure since 1993 - the fifth generation in the family to make wine at the domaine. Both women are leading personalities in the southern Rhône, known for their serious, concentrated, traditionally-made wines from old vines.
Farming/vinification practices: sustainable farming. The reds are bottled unfined and unfiltered, which adds to their richness and natural typicity. In order to preserve the maximum amount of fruit, the wines are raised in steel or enameled cuves. Whites and roses are fined with clay. All wines are vegan.
Domaine Rabasse-Charavin Website

Côtes du Rhône Villages - Cairanne
To summarize Parker, there is no point trying to decide whether the Cairanne or Rasteau is the better wine as everything from this winery is of the highest quality. However, these two wines are distinct. Where the Rasteau is big, predominantly dark fruits and higher alcohol, the Cairanne is all about finesse, sweet fruit and elegance. It is a blend of old vines 70% Grenache (40-70 year old vines), 15% Syrah (20-30 years), 5% Cinsault (15-20 years) and 10% Counoise (30 years). The Syrah adds a gorgeous perfume and a silky texture. The vines grow on south-facing hillsides for maximum sun, and produce 30 hectolitres per hectare. This wine will age well 5 to 8 years. The fruit is full, with notes of crushed dark berries. This is an elegant and powerful Rhône wine.