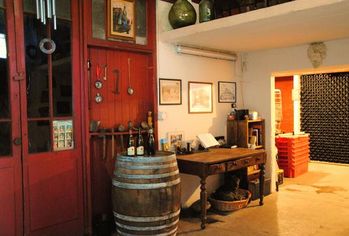 This 3.5 hectare Lilliputian family-owned property is situated in the very heart of Châteauneuf du Pape. The estate traces its origins back to 1405, and the coat of arms on the label is that of the Bertet family. In 1625, Jean Gaspard Bertet de la Cluse was commander of the colony of Illinois, in what was greater French Louisiana. Today, Banneret belongs to a Bertet descendant, Jean-Claude Vidal. He made his career as an architect but in 1989, when the former owner was ready to retire, the question of whether the domaine would be sold to someone outside the family came up. Jean-Claude and his wife decided they would take over. Jean-Claude learned winemaking at the feet of Jacques Reynaud and Henri Bonneau, who made the early cuvées. He learned the traditional methods of his ancestors, and taught them to his daughter Audrey, who now oversees the domaine.
Located on the characteristic galet-covered soil, the vineyards are divided in 8 parcels, around the famous castle ruins. They are inter-planted with all 13 varieties: Grenache noir, Mourvèdre, Syrah, Muscardin, Vaccarèse, Terret Noir, Cinsault, Picpoul noir, and Counoise for the reds, Grenache blanc, Clairette, Bourboulenc, Roussane and Picardan for the whites.
Farming practices: organic.
Domaine du Banneret Website

Le Secret - Châteauneuf du Pape Blanc
40% Grenache Blanc, 40% Clairette, 10% Picardan, 5% Roussanne, 5% Bourboulenc. The clairette brings freshness to the wine.
The grapes for Le Secret are coming from a new plot that Audrey Vidal bought in 2015 and called "Les Terres Blanches". This half hectare parcel is located by the Château de Vaudieu and only planted with white grapes. The soil is limestone rocks and round pebbles. The vines are 40 year old and are trained in order to give them optimum exposure to the sun and proper air flow. The grapes are harvested in small cases, early in the morning to avoid oxidization of the berries.
The wine is mostly aged in stainless steel, with only 15% aged in barrels. Le Secret is delicate and elegant, very much driven by floral aromas. 1200 bottles produced. 13.5% alcohol.
"Pale gold. Vibrant orchard and pit fruit aromas are complicated by notes of jasmine, smoky minerals and sweet butter. In a sappy, energetic style, offering intense nectarine and poached pear flavors and a refreshingly bitter hint of lemon pith. A floral quality gives lift to the very long, focused finish, which leaves behind dusty mineral and pear skin notes." Josh Raynolds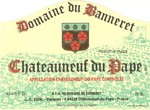 Châteauneuf-du-Pape
The traditional blending is 60% Grenache with famous parcels located on the highest parts of "Grand Pierre" terroir (very close to the Rayas vines), 10% Syrah near Bois de Boursan, 10% Mourvèdre near the Rhône, and the remaining 20% are the 10 other grapes which are part of the appellation and which bring this unique complexity only found in Châteauneuf-du-Pape. Many of the vines are 80 year old and older.
Yields are a parsimonious 1.4-1.8 tons/acre and the wine is very concentrated. Harvest is always strict and manual: grapes are cut with care and sorted. Winemaking is thoroughly traditional: all varieties are co-fermented (whole clusters) with indigenous yeasts in small concrete tanks, and the maceration period is lengthy. Some racking is done to keep the freshness. The wine is then aged in oak barrels (from Burgundy) for at least 18 months, clarified by many decantations. This method gives finesse, power, and complex aromas, plus all the natural tannins. This is ultra-traditional, concentrated, flavorful Chateauneuf. Unfortunately, total annual production never exceeds a scant 1000 cases and is often closer to just 400.