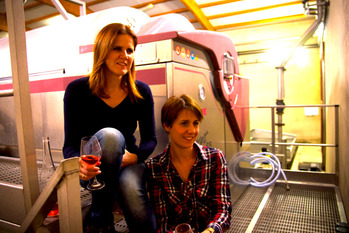 The Domaine la Rocalière is a 60 ha family estate comprised of 32 ha in Lirac near the villages of St. Laurent des Arbres and Lirac, 23 ha in Tavel and 5.5 ha of VDP Coteaux de Cèze near the village of Pujaut. The Domaine is run by Séverine Lemoine and her sister Mélanie Bourrelly, whose father Jacques was one of the principle founders of the estate in 1995. Séverine tends to the vines and the winemaking while Mélanie handles the administration and commercial side of the business.
The vines average 30 year old, with many parcels over 40 year old. All the grapes are hand- harvested.
Farming practices: Certified organic since 2013.
Domaine la Rocalière Website

Lirac Blanc
80% Grenache, 20% Clairette.
14.5% Alcohol



Lirac Rouge
34% Grenache, 33% Mourvèdre and 33% Syrah.
Cold maceration for about two days in stainless steel tanks, before fermentation and aging.
Dense purple color, with pure, dark fruit on the nose. Deep, spicy, beautiful texture and structure on the palate. 15% alcohol.



Tavel
Dry Rosé.
60% Grenache, 20% Cinsault, 10% Mourvèdre, 10% Syrah.
Brief maceration in stainless steel vats (about 24 hours). Free run juice and press juice are then blended together. The fermentation takes place at controlled temperature (13° to 28°C). The different varieties are vinified separately with the greatest care, each one contributing its own individual characteristics. The Grenache brings its fruitiness and richness; the Cinsault, its fine personality and length; the Mourvèdre and Syrah, red fruit aromas and aging potential. Drink within 2 years. 14.5% Alcohol.