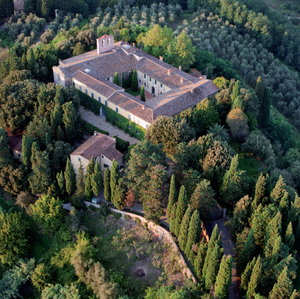 The Badia di Morrona is located in the Pisan hills (Colline Pisane) between Pisa and Florence, and is one of the four badie or monasteries founded by the count of Fucecchio. The monastery dates back to the 11th century when it was run by Benedictine monks. It is a large estate dedicated to both farming (olive oil) and viticulture. The estate represents the perfect marriage between tradition and modern technology. The current owners have recently completed building a new winery. Not only are Chianti DOCG vines grown, but Cabernet Sauvignon, Cabernet Franc, Merlot, Shiraz, Chardonnay and Sauvignon Blanc are cultivated as well. Though the estate is relatively large, all grapes are harvested by hand.
Note: The winery has a big solar implant that allows them to produce green energy and to be self sufficient. The wines are vegan.
Badia di Morrona Website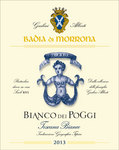 Bianco dei Poggi - Toscana Bianco
Vermentino, Trebbiano and Chardonnay, hand picked and aged in stainless steel vats. 12.5% Alcohol.
A fragrant expression of a coastal white from Tuscany.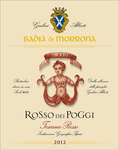 Rosso dei Poggi - Toscana Rosso
Sangiovese (at least 80%), aged in stainless steel vats. 13.5% Alcohol.



Chianti - I Sodi del Paretaio
This wine comes from various estate vineyards all enjoying south or south-eastern exposures. 90% Sangiovese is blended with 5% Cabernet and 5% Merlot. Densely planted to 5600 plants per hectare, the vines grow in sandy limestone-rich soils. The grapes are macerated for over a week and vinified in steel or concrete vats.
The 2015 is bright ruby to the edge, with a fabulous nose of wild berry, blue flower, and tangy spices. Juicy and high-toned on the attack, with sneaky weight and supple texture. This is textbook Chianti.



Toscana Rosso "Taneto"
70% Syrah, 15% Sangiovese, 15% Merlot - the grapes are manually harvested.
From vineyards 180 meters above sea level, facing East - Soil Composition: sand and limestone, rich in fossils.
This is Badia di Morrona "Mini Tuscan"... aka affordable Super Tuscan. A blend of traditional Sangiovese and international grapes, the high percentage of Syrah giving this wine its strong personality. Aged in French oak barrels for 12 months. Deep in color, with delicate notes of cinnamon, cocoa and black pepper. Soft and pleasing mouthfeel, velvety tannins.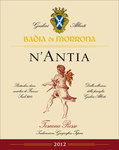 N'antia
50% Cabernet Sauvignon, 30% Cabernet Franc, 20% Merlot. Aged in 60 gallon French oak barrels for 15 months, and an additional 10 months in bottles before release. Spicy and balsamic notes on the nose, with lovely aromas of ripe berry fruit, black currants, tobacco and vanilla. 14.5% alcohol. 8.000 bottles produced.