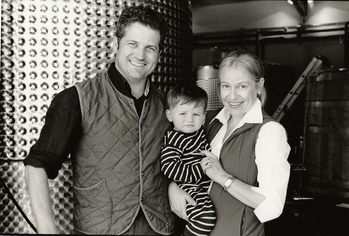 Gianpaolo Paglia, a PhD and an agronomist born and bred in Maremma, and Justine Keeling, an English marketing manager, bought the estate in 1997.
Poggio Argentiera is today composed of two estates situated in two very different areas of Tuscany's Maremma. Podere Adua, with the head office, cellar and winery, is close to the Maremma Natural Park, in the coastal region of Grosseto. Podere Keeling is found in the hilly area to the North of the Scansano district, towards Monte Amiata.
Although both are in the Morellino di Scansano DOCG region, each experiences a very different micro-climate. Podere Adua is only a few kilometers from the sea, a few meters above sea level, where the coastal climatic conditions include hot temperatures, high insulation and little rainfall during the growing season. The soil is sandy-lime with little fibrous matter. Podere Keeling is in a hilly area 250m above sea-level, with a rich, fibrous clay soil, and the micro-climate is generally a little cooler.
Antonio Camillo has been Poggio Argentiera's manager since 2000, involved in all aspects of production, from vineyard management to wine making. His great passion for indigenous varieties that are found in the part of Maremma where he was born lead them to start a project of selecting old vineyards of Ciliegiolo. This is a joint venture between Antonio and Gianpaolo, and all the wines made with Antonio Camillo's brand are vinified at Poggio Argentiera, by the same people and following the same methods as Poggio Argentiera's wines. They now have secured a long term lease of some beautiful old vineyards, which were in a derelict state and that have since been restored.
Even though Poggio Argentiera is a relatively young winery, it has already acquired an impressive record of awards and critical acclaim, both in Italy and worldwide: three glasses from Gambero Rosso Slow Food Guide of Italian Wines, "Vini dell'Eccellenza" from the Espresso Guide of Italian wine, 90 points + scores from Robert Parker's Wine Advocate, Wine&Spirits, Wine Enthusiast, Wine Spectator.
The spiral on the label represents the swirl of the wine in the glass.
Vineyards: 50 Ha
Production areas: Grosseto, Magliano in Tuscana, Manciano, Pitigliano, Scansano.
Farming practices: organic since 2009
Total bottles produced: 300.000
Maremma: Vermentino, Ansonica, Ciliegiolo, Alicante, Syrah, Sauvignon Blanc.
Poggio Argentiera Website

"Guazza" - Vermentino
IGT Maremma.
100% Vermentino.
Vinification: stainless steel fermentation at controlled temperature for 2 weeks. The wine is then matured another 4 to 5 months in stainless steel vats prior to bottling.
Fresh and crisp, with notes of stone fruit, rosemary and sage.
The Vermentino variety is one of the few that really feels at home on the Mediterranean coasts of Tuscany, Maremma, Sardinia, Liguria and Southern France (where it is called Rolle). It loves sun and produces wine with a refreshingly slightly saline taste.



"Maremmante' - Toscana IGT
50% Syrah, 50% Alicante (Grenache, Alicante Bouschet), from vineyards located in Scansano (Podere Keeling) and Grosseto (Podere Adua) and planted in 2003. The percentage may vary slightly according to the vintage.
Mediterranean climate, mild winters and hot, dry and sunny springs and summers.
Vinification: fermented and matured in stainless steel, temperature-controlled vats.
There are two kinds of grapes called Alicante in Maremma: one is the Grenache, with its floral and red berry flavors and pale ruby red color; the other is Alicante Bouschet, a cross made by the Swiss plant breeder Bouschet in the 1850s between Grenache and the teinturier variety Petit Bouschet. The color of Alicante Bouschet is much darker, almost black, because the flesh of the grape is not white like in most of the red variety but purple red (hence the name teinturier, given to this sort of varieties). Syrah and Alicante both benefit from sunny and warm climate, such as the one that is found in the Maremma, and produce intense, medium to full bodied spicy wines, with notes of pepper, elderflower, cloves, cassis, blackcurrant, herbs, reminiscent of the Mediterranean strong flavors.



"Bellamarsilia" – Morellino di Scansano
85% Sangiovese, 10% Ciliegiolo, 5% Alicante (Grenache), from mostly young vineyards located in different areas along the coast of Maremma, near the Mediterranean Sea.
Mediterranean climate, mild winters and hot, dry and sunny springs and summers.
Fermented and matured in stainless steel and cement, temperature-controlled vats with native yeasts. The wine is filtered but not fined.
The Morellino di Scansano (the name probably comes from the "Morello" colour of the Maremmano horse, a very regarded breed that is used by the Italian Army) is the only DOCG wine from Maremma (the highest rank within the Italian Appellation System), very popular for its freshness and it sunny character. The Mediterranean climate gives a different expression to the Sangiovese grapes than more inland in Tuscany, where climate is more continental. The fruit is certainly riper here: red cherry, some strawberry notes, more savory notes with age. Sometimes the wine can be a bit rustic, which makes it a beautiful pairing for the rustic, full flavored local cuisine.