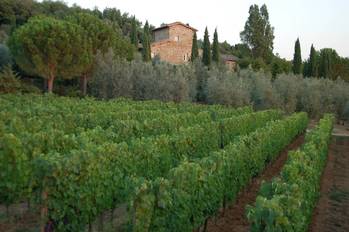 The Máté Winery is a family-owned, organically farmed estate in the prestigious, temperate Santa Restituta zone of Montalcino, also home to the vineyards of Angelo Gaja and Gianfranco Soldera. Within the Máté's 75 acres of natural forest and wild fruit, the family planted 15 acres of vineyards in extremely varied terroir between 1,000 and 1,300 feet above sea level. Varietals and clones were specifically chosen for these various expositions, elevations and soils and planted at twice the normal density. The varietals include Sangiovese (in fossil-filled tuffo), Merlot (in sandy clay), Cabernet Sauvignon (in galestro), and Syrah (on mineral-rich, southern terraces). The selected hand-picked grapes are fermented in small temperature-controlled stainless steel and wood vats; the must is punched down and pumped over. The wines are then aged for up to three years in barriques, tonneaux and 40 HL vats of Allier French oak.
Writer Ferenc Máté, and his wife Candace, a painter, left New York in 1990 for the Tuscan countryside. They restored an ancient, abandoned friary before planting their vineyards between 1997 and 1999. Being perfectionists, the Mátés performed a "museum quality" restoration of the friary, then hired Gaja's agronomist, Fabrizio Moltard to design the vineyards and France's Pierre Guillaume to choose the best varietals and clones. They still consult with Gaja's General Manager, with Ferenc overseeing the vineyards while Peter, their son, and Candace are responsible for the winemaking. Their Tuscan experiences are humorously written about in Ferenc's A VINEYARD IN TUSCANY - a marketing tool found to be indispensable to distributors and retailers. Translated into 14 languages it has sold over a million copies worldwide. All labels are Candace's artwork.
Farming/vinification practices: Having always followed organic guidelines the Máté wines will officially be certified organic beginning with the 2016 harvest. The wines are never chaptalized. They are not fined and are vegan friendly. Total production - 2,000 to 2,500 cases.
Máté Website

Rosso di Montalcino
Note: The Rosso is not a declassified Brunello, as the law states that to be classified as Brunello di Montalcino the wine must be aged in oak for 2 years and spend at least 4 months in the bottle before release.
100% Sangiovese. Though the Rosso di Montalcino rules do not specify any time in barrels, the Máté's Rossos spends at least 9 months in barriques and a minimum of 3 months in bottle. Approximately 150 cases produced each year.
"This silky Rosso offers a lean, compact mouthfeel and intense aromas of red fruit, smoked almond, black olive and sour cherry. There's a savory note of cured meat on the finish." - Wine Enthusiast.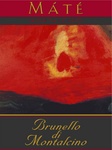 Brunello di Montalcino
The grapes are selected, hand-picked, then re-selected. Fermentation takes place in small temperature-controlled stainless steel vats. The must is punched down by hand four to five times a day to extract colors and tannins. The wine spends up to three years in 500 liter French oak. After bottling, the wines rest for at least nine months before being released.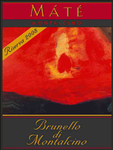 Brunello di Montalcino Riserva
James Suckling - 94pts, WS - 91pts, Falstaff - 94pts, Jancis Robinson - 17+pts
A red that delivers so much rose bush, dried meat, strawberry and sea salt character. It's full-bodied, with firm and silky tannins and a long and intense finish. High toned Brunello.