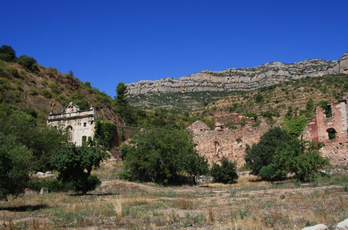 Baronia del Montsant is a small, artisan estate of 8 hectares that was founded in August 1998 by Carlos Macias and oenologist Xavier Canals, in the beautiful village of Cornudella de Montsant (Tarragona). Their total production is about 7000 cases per year: 1000 cases comes from their estate vineyards, the remaining from vineyards they rent and farm. The "Englora" wines are a tribute to the top of the Montsant mountains in the heart of the Priorat, at 1000 meters.
Soils: The grounds that form the region of Priorat come from a first extract of sediments formed during the Palaeozoic. Later, during the Mesozoic, this first disposition was followed by a series of violent granite eruptions, which became the base of the present shape of the region. The granite transformed the Palaeozoic sediments into the typical "licorelles" (zones of slaty aspect, of dark colour) and "codols" (rolling stones).
Weather: Mediterranean climate, tempered by the frequent winds from the northeast. The temperatures are relatively moderate, with an annual average of 16 º C. In the cold season, frosts are not uncommon and there is snow on an average of three days per year. The rainfall is about 500 mm/year and the vineyards get an average of 7.3 hours of sunlight per day.
Farming practices: There is no fertilization used - only sustainable, close to organic treatments when needed.
Baronia del Montsant Website

Flor de Englora
63% old-vine Garnacha, 32% Samso (Carignan) and the balance Syrah, Merlot and Tempranillo. Stainless steel fermented and aged in barriques (70% Allier and Troncais French barriques and 30% Tennessee), 25% new. The Carignan and Garnacha are agressively pruned to produce low yields.



Englora
34% Garnatxa from 70-year-old vines, 19% Samso (Carignan) from 50-year-old vines, with the balance from 25 year old grapes of Cabernet Sauvignon, Syrah, and Tempranillo. Aged for 10 months in 33% new French oak. This cuvée comes entirely from estate grown fruit, from for the most part Cornudella del Montsant, which has the same soil as in Priorat. 1333 cases made.