Marcel Joubert >
Beaujolais
>
France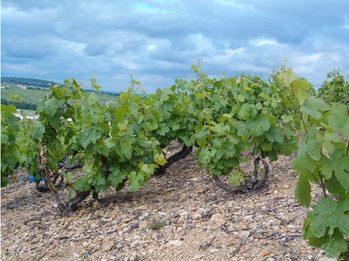 A fourth-generation wine-maker, Marcel Joubert boasts a grandfather named Petrus, founder of the appellation Brouilly. The 11 hectare vineyard spreads across AOC Beaujolais, Beaujolais-Villages, Brouilly, Fleurie, Chiroubles and Morgon. Marcel Joubert followed the steps of his father in 1972, with in mind the preservation of vines 30 to 100 year old and the desire to farm in a way close to nature. His daughter Carine took over in 2016. Farming practices: certified organic. Some parcels are in biodynamy, and Karine follows the biodynamic calendar for bottling and some other vineyard work. Seaweed is used as a fertilizer. Instead of employing defoliants, short, sturdy grass (pâturin) grows on the poor, sandy soil between vine rows. This method creates competition with the vines, which develop a deeper root system and a natural reduction of their yield. Plowing is also a part of the program. This serves to destroy weeds, aerate the soil and promote microbial biodiversity. Biodegradable hemp fabric is used to prevent grass from growing just by the vine trunk. The grapes are hand-harvested. Vinification: Only ripe, healthy fruit is used. Depending on the vintages, the grapes undergo full carbonic maceration or semi-carbonic maceration at 10°- 12° Celsius. Maceration, alcoholic fermentation and malolactic fermentation are accomplished through the action of indigenous yeasts and bacteria present on the grape. After the wine is pressed, it is kept in foudres of 20, 40 and 60 hectoliters, and raised through the winter in smaller, 1 to 5 year old 228 liter barrels. The wines do not have added sulfites. They are unfined and unfiltered. The wines are vegan. Total production is 60,000 to 70,000 bottles.

Beaujolais - "Cuvée à l'Ancienne"
100% Gamay. The vines are planted on hillsides with a western exposure, with volcanic, sandy and stony sub-soil. The 2015 vintage was hot, so the grapes were at a high temperature when they came into the cellar. They underwent semi-carbonic maceration and a short vinification to preserve fresh aromas and fruitiness. 12% Alcohol.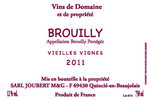 Brouilly Vieilles Vignes
100% Gamay. This cuvée is produced from old vines (70 to 100 year old), planted on hillsides on volcanic granite sub-soil. Pigeage (punching down the cap) is performed to get better extraction. This dark ruby wine offers a mouthful of rich, fruity matter with soft tannins. 12% Alcohol.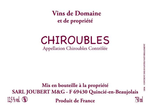 Chiroubles
100% Gamay. This is the highest elevation AOC in Beaujolais and the vines of Marcel Joubert are planted on a steep hillside with full southern exposure, on silty terrain with stones and gravel. Joubert favors short vinifications in order to showcase the elegance of the fruit. Delectable red and black fruit on the palate, mineral, with a floral touch (peony).