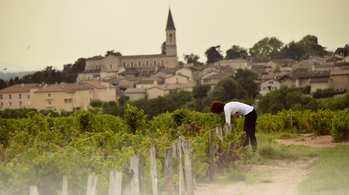 The 6 hectares of vineyards - 12 parcels in Moulin À Vent - were bought in 2012 by the Lardet family: Paul and Danielle Lardet, and their three children, Delphine (who made wine with Yves Cuilleron), Jocelyn and Stéphane. "Le Nid" or "The Nest", as they have baptized their vineyard, is the symbol of their unity. Together and supported by their cellar master and oenologist, they have redefined the growing and wine-making process whilst still respecting tradition. Farming practices: sustainable, to preserve the soil and maintain biodiversity.
Le Nid Website

Moulin À Vent - Rochegrés
100% Gamay, from a 1 hectare parcel of 60 year old goblet vines located on the hills of Moulin-à-Vent, and planted on granite soil. The grapes are hand-harvested and partially destemmed. The juice ferments in 60hl stainless steel tanks. The wine is then aged for 12 months in oak barrels. 2330 bottles and 50 magnums produced.