Domaine Les Capréoles >
Beaujolais
>
France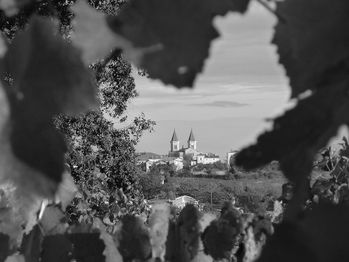 When Cédric Lecareux and his wife Catherine, native of Beaujolais, discovered the property, it was love at first sight. Located in Regnie-Durette, the wine estate, steeped in history for more than 250 years, charmed them with its old stones and ancient arched cellars. With an existing winery and 3.5 hectares of old Gamay vines surrounding the house, everything was there for them to combine their wine project and family life. They took the plunge and made their first vintage in 2014. Two years later, they bought an additional 2 ha of vines. A trained agronomist and oenologist, Cedric spent nearly 15 years working in the wine business before achieving his dream. Everything he does is hands on and natural; the results are purely-fruited, fresh Beaujolais that remarkably express all the richness of their exceptional terroir. Total production is around 30,000 bottles. The word "Capréoles" comes from the Old French and means vine tendrils. Cédric and Catherine chose this name for all it symbolizes: the reference to History and Tradition, the natural support allowing vertical growth of the vine but also the idea of the relationship they want to establish with those who appreciate their work. Farming/vinification practices: in conversion to organic, will soon be certified. The wines are vegan. The grapes can be destemmed, depending on the years. Open tank fermentation, no pumping over, vinification as natural as possible but always with control - little SO2 added, only after malolactic in tanks.
Domaine Les Capréoles Website

Regnié "Chamodère"
"Chamodère" is a portmanteau word created from chameau (camel) and dromadaire (dromedary). This Gamay is a special animal! The grapes come from 40 year old vines and are left mostly whole cluster (70%). 15 day maceration with daily punch down, indigenous yeasts. 20% of the wine is aged in 4 to 6 year old barrels, the rest in concrete tanks. The combination of a traditional carbonic maceration and partly destemmed grapes results in a fruity Regnié with silky tannins. 13% alcohol. 833 cases made.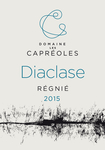 Regnié "Diaclase"
The soils at Domaine des Capréoles are granitic and a diaclase is a fracture of a rock body, generally vertical, resulting in a joint. The label represents such a fracture.
100% Gamay from 65 year old vines. 20% whole cluster. 15 day maceration with daily punch down, indigenous yeasts. 80% of the wine is aged for 12 months in 4 to 6 year old barrels, the rest in concrete tanks. Made from the domaine's oldest vines, this is a generous concentrated wine. With its ripe black fruits and firm tannins it is also a wine to age. It has perfumed black-cherry flavors that are enhanced and lifted by the acidity. 416 cases produced. 14% alcohol.