Domaine de la Casa Blanca >
Languedoc - Roussillon
>
France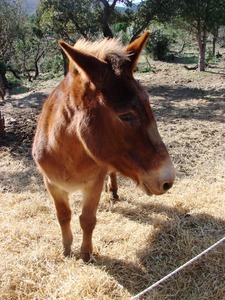 COLLIOURE and BANYULS
Banyuls and Collioure are two Appellation Contrôlée wines which share the same geographical region. The vines grow on terraced, schistous mountainside vineyards located smack up against the Mediterranean Sea near the Spanish border. The steep slopes and very poor soil combined with constantly buffeting winds off the sea makes grape production difficult but yields great wines. The vines grow low to the ground and each must be planted, tended and harvested by hand. Yields are astonishingly low, at most 20 HL/HA. Created in 1970, Casa Blanca is one of the oldest domaine in the AOC. It consists of 10 hectares of carefully tended vines ranging in age from 70 to 100 years. Herve Levano, the current winemaker and co-owner, arrived in Banyuls in 1995 and bought shares in Casa Blanca in 2005. His goal, with vineyard manager Laurent Escapa - who has been with Casa Blanca since 1989 - is to make intense, flavorful wines that combine the best of traditional methods (i.e. wood aging) with the advantages of modern techniques (i.e. temperature control). Their winery is in the middle of the village of Banyuls. In 2010, Valérie Reig joined the team and is working the soil with her mule Ursule. The total production is 1250 to 1700 cases per year, about half for Banyuls and half for Collioure, plus a few cases of Banyuls Blanc and Hors d'Age.
Casa Blanca superb wines have been praised in GaultMillau, Hachette, Dussert-Gerber and the Revue du Vin de France and have been awarded the prestigious Saint-Bacchus award for best of Roussillon.
Farming pratices: 4 hectares are farmed organically (but no certification). 3 other hectares are farmed sustainably. The wines are vegan - they are not fined.

Banyuls
Levano makes his sweet red wine in the style of a Vintage Port, emphasizing the fresh fruit flavors in youth and meant for long aging. This type of Banyuls is called Rimage in the local Catalan dialect and is made in a reductive fashion (by law, it has to be aged 4 to 20 months). Other type of Banyuls are made in an oxidative way: "Banyuls Traditionnel" (aged for at least 30 months) or "Banyuls Hors d'âge" (5 years of aging, either in glass "bonbonnes" or in barrels left outside or in the cellar).
Made solely from Grenache Noir, the grapes macerate for 2 weeks after the mutage (addition of grape spirits to stop fermentation). The wine then ages in 400 liters old casks for 12 months. The result is a deep, intense wine with layers of flavors, ranging from cooked plums and dark berry fruits to chocolate and spice. The finish is long, lingering and clean. 80 to 90 gr RS - the minimum by law is 65 gr RS, but some Banyuls have up to 120 gr RS.



Collioure
This dry red wine is made from a blend of Grenache Noir, Syrah, Mourvedre and Carignan. Small yields and old vines bring out the essence of these varietals while aging in oak casks adds roundness to the wines. The bouquet is immediately attractive, like a bowl of freshly crushed raspberries. The palate is very concentrated berry fruit with a velvety texture due to the ripe, mature tannins. A deep, complex wine.