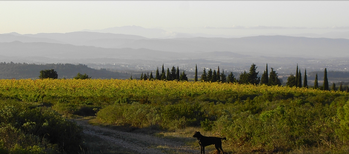 As president of the Comité Interprofessionnel de Cabardès, Claude Carayol succeeded in creating this appellation in 1999, even though wine has been made here since the Romans. There are between 50 and 60 producers in the appellation. Situated in Languedoc just north of Carcassonne on the southern flank of the Montagne Noire, which separates Languedoc from the Massif Central, Cabardès is unique in that the transitional character of its geography and range of its grape varietals (with plots of Cabernet Sauvignon alongside Grenache) permit the winemaker to favor either a Mediterranean or an Atlantic (Aquitaine) style. Claude Carayol's family has been growing grapes in this region for many generations though winemaking is a more recent venture. Claude owns 150 hectares of land up in the hills with just about 20 hectares under vine in the most crazy patchwork of small parcels. You drive over rocky terrain of scrub-oak from one parcel of vines to the other, each vineyard fitting comfortably into its contour in the plateau. This scrub-oak is where the word "garrigue" derives ("gar" being the word for oak) and up in these hills you see the first signs of the typical Mediterranean terroir including wild herbs like thyme and rosemary. Carayol has the highest vineyards in Cabardès, about 300 meters, and the soils are almost pure broken rock, filled with fossilized sea creatures from 90 million years ago. These high elevation vineyards allow him to harvest much later than his down-the-hill neighbors so he picks in mid to late October, giving him a very long growing season.
Farming practices: sustainable.
Domaine de Cabrol Website

"Blue Note"
80% Grenache, 20% Syrah, from vines located on the southern slopes of the Montagne Noire, at the foothills of the Massif Central, at 300 meters altitude - which contributes to the freshness of the wine. The soil is clay-limestone. The grapes are all hand-harvested, destemmed and macerated for 3 weeks (as opposed to 4 weeks for the Vent d'Est), with délestage and remontage - must is drawn out and pumped and sprayed over the " cap" after the alcoholic and malolactic fermentation. The wine is then racked, put into a tank, and assembled after 10 months. After several months of rest, it is lightly fined and filtered, then bottled. Aromas of violets and spice.


Cabardès - "Vent d'Est"
60% Syrah and 40% Cabernet Franc, from 15 to 25 year old vines. The Cabernet Franc is destemmed, while the Syrah goes through carbonic maceration. Both are vinified separately in tanks, and assembled after about 10 months. The wine rests for a few additional months before being lightly fined, filtered and bottled.
Suave texture, incredible aromas of wild berries, then black olives, black pepper and a hint of violet as it keeps evolving in the glass. Long and complex finish. 13.5% Alcohol.