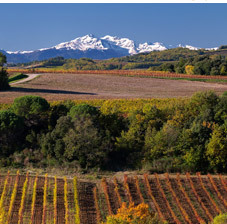 Cave Anne de Joyeuse is a high quality cooperative winery in Limoux, which was founded in 1929 and which currently boasts 650 members. It is directed today by Guy Andrieu. Anne de Joyeuse is one of only ten wine cooperatives in France to carry the highest level of quality accreditation. All the individual growers (all of them sustainable) who supply Anne de Joyeuse have to adhere to rigorous procedures, laid out and monitored by the co-operative's oenologists. They use GPS to track where the grapes and the growers are, and throughout the whole year constantly visit them to ensure that quality is achieved. If an additive is needed in the vineyard it is supplied by the winery in a specific quantity and the grower is instructed when and how to use it. Ripeness in all of the vineyards they control are monitored by thermal imaging satellites. In addition to farming practices the winery has also made a commitment to all aspects of protecting the environment. Use of all farm equipment is closely monitored to keep pollution to a minimum, all water used by the winery is collected, purified and reused. The state of the art winery utilizes solar power and geo-thermal technology and all left over raw materials are composted. Anne de Joyeuse also considers the social impact that their business has on the region. As they demand a high level of commitment from their growers they pay top dollar for their grapes, in the winery worker safety is of upmost importance. In order to insure that they are living up to their commitment the winery has contracted with Veritas Bureau International to certify each year that they are living up to their mission statement. The results of their commitment to the environment is best illustrated by the fact that over 80 varieties of orchid which are native to the region have spontaneously regenerated in their vineyards. (Hence the flower on the label). Since 1994 they have been recognized by the label "Protect The Planet" for work methods which are compatible with sustainable agriculture and the promotion of bio-diversity. The wines are vegan -when fined, it is with bentonite. They produce 85% reds, 10% whites and 5% roses.
Anne de Joyeuse Website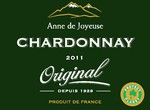 Original Chardonnay
From small parcels of Chardonnay (30 to 80 acres) farmed sustainably. Fermentation in stainless steel tanks with constant monitoring of temperature and cold settling of the wine for natural clarification. 50% of the wine goes to stainless steel tanks, the remaining 50% is aged in barrels (1/3 new, 1/3 one year old, 1/3 two year old). Beautifully aromatic nose combining notes of white flowers and citrus. Clean and balanced on the palate, fresh finish.



Original Malbec
Introduced at the foothills of the Pyrenees Mountains several centuries ago, Malbec was officially listed by Dr. Guyot as an original grape of the Limoux area in 1868. Anne de Joyeuse carefully grows Malbec in the vineyards facing the snowy peaks of the Pyrenees Mountains, where the vines enjoy cool soils and warm sunny days.
The wine is fermented in temperature controlled tanks for eight days. The gentle extraction techniques allow to obtain a well balanced phenolic and tannic structure. The wine is then aged for 6 months in French oak barrels.
Intense purple and ruby color, blackberry and violet notes on the nose, fruity in the mouth with soft tannins and flavors of ripe black fruits, vanilla, cocoa and plum. Well balanced with a long finish.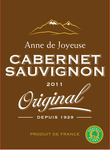 Original Cabernet Sauvignon
From selected plots farmed sustainably. Clay and limestone soil. Fermentation in stainless steel tanks with constant monitoring of temperature for 8 days, then maceration for 30 days. 50% of the wine goes to stainless steel tanks, the remaining 50% is aged in barrels (1/3 new, 1/3 one year old, 1/3 two year old). Elegant nose of red fruits. On the palate, black berries, wild berries and blackcurrant. Pair with hearty dishes.


Camas - Sauvignon Blanc
The Sauvignon Blanc grapes are grown in the highest altitude vineyards in the Vallée de l'Aude. Sub-soil is composed of clay-limestone and gravel. In order to create a wine that is at the same time rich, fruity and fresh, the grapes are harvested during two passages. The first passage (25% of the total harvest) produces grapes with a bit less maturity in sugar but more acidity and citrus aromas. The second harvest takes place later, at the maximum of maturity, for fullness on the palate, finesse and complexity.
The grapes are pressed directly without maceration. Fermentation with natural yeasts. Vinification is achieved through temperature-controlled fermentation (16-18° C) for four weeks, followed by cold settling (débourbage) to naturally clarify the wine. Aged on fine lees in stainless-steel tanks for three months. Citrus aromas followed by lemon-lime fruit on the palate and a long, mineral finish. 12% alcohol.



Camas - Pinot Noir Rosé
A fragrant nose of raspberries and cherries. The palate shows a sustained concentration of red fruits with a crisp, refreshing backbone. A perfect aperitif wine and a good match for salads and light fares.



Camas - Pinot Noir
The grapes are grown in the highest altitude vineyards in the Vallée de l'Aude, where the cool Pyrenean climate prevails. The vines benefit from the large amplitude between night and day temperatures. Grapes are selected by parcel, with moderate yields. Generally, an 11 day maceration with semi-manual punchdown (pigeage in 125 hectoliter stainless-steel tanks) is followed by 8 days of fermentation at 24°C. The wine is then aged for 6 months before bottling. A very approachable wine with a pronounced nose of red fruits and cherries. Ideal as an aperitif or with tapas.



Pinot Noir - Gargantuavis
Cultivated on a terroir of red (iron-rich) cretaceous clay on crushed limestone at 1200 feet altitude, this pinot noir from the high valley of Esperaza is manually harvested, is rigorously selected on a table de tri and de-stalked. Yields are at a modest 50 hectoliters per hectare (not dissimilar to village Burgundy).
A five day maceration with pigeage (punchdown) at 18° C. in stainless steel tanks of 120 hectoliters is followed by ten days of fermentation at 30° C. Six months of elevage is carried out in large, 100 hectoliter foudres (casks) of French oak.
This deep ruby colored wine offers cherry and red fruit aromas prolonged on the palate by hints of vanilla and hazelnut. Serve slightly cooled with braised meats cooked with mushrooms or goat cheese. This type of Pinot Noir is one of the most flexible wines with food.