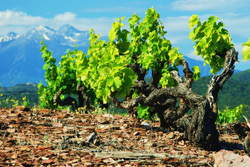 Domaine des Schistes, one of the top domaines in its region, produces exceptional dry and sweet wines, regularly singled out for their quality by Revue de Vin de France and Gault&Millau. Located in the village of Estagel, the property belongs to Jacques Sires and is now run by his son Mickaël. Though the Sires have been farmers for many generations, it was only when Jacques started bottling the wines in 1989 that Domaine des Schistes was truly born. The estate now comprises 55 hectares - the vines were planted by Mickaël's grandfather in the late forties, spread across 80 different parcels.
Mickaël is young but very experienced. He made wines in New Zealand before coming back to the home vineyard. He brings youthful energy and ideas, a willingness to change and improve while being solidly grounded in tradition. Jacques is still involved but is used more as a sounding-board than as a source of new ideas. This combination of personalities works well to produce some excellent wines.
Everyone knows about the Mistral, that strong, constant wind that literally gets sucked down through the Rhône Valley vineyards to the Mediterranean Sea. The Roussillon has its own strong wind and it is even more constant, blowing from the Northwest over 300 days per year. It is named the Tramontane ("across the mountain"). Speeds range from 35 to 80 miles per hour. It functions just like the Mistral, keeping the grapes clean and dry and in fact dehydrates the grapes a bit, intensifying flavors.
Schiste's vineyards grow Grenache Noir, Grenache Blanc and Grenache Gris, Vermentino, Syrah and Macabeu, a white variety becoming more popular in this area (it is used extensively in white Rioja). Of all these varieties Syrah needs the most water, a challenge in this dry, hot area which has been hit by droughts in the last few years. For this reason they tend to plant the Syrah on north-facing hillsides to preserve the freshness of the fruit. The drought of the last few years has been impacting the yields of the vineyards, especially in 2007, in which the vines had half the number of flowers and thus half the crop. The vines are trained in the traditional gobelet method.
The total production for the domaine is just under 100,000 bottles, spread between 12 cuvées. The rest is sold in bulk.
Farming practices: Certified organic since 2015 vintage.
Domaine des Schistes Website

Essencial Blanc
AOP Côtes Du Roussillon.
38% Vermentino, 34% Grenache Gris, 28% Macabeu. Aged in stainless steel. 13% Alcohol. Enjoy within 2 years.
This wine is unfined and vegan. Certified Organic.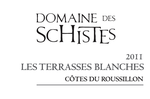 Les Terrasses Blanches
AOC Côtes Du Roussillon
This cuvée of Grenache Blanc (70%), Grenache Gris (20% ) and Macabeu (10% ) is produced from vines planted in 1960 on a terroir of rocky limestone sprinkled with shale, at 180 meters altitude and with full eastern exposure. Yields are a very low 25 hectoliters/hectare.
Grapes are manually harvested at the moment when their alcohol potential reaches 12.5°/13°. The hand-picking preserves the integrity of the grape bunch, which, by preventing oxidation before pressing, ensures aromatic purity. The grapes are pressed directly, without maceration, but slowly and at low pressure. The resulting must then undergoes 14 - 36 hours of débourbage (cold decantation ) followed by soutirage (racking ) into casks that have been previously used 1 to 3 times. Fermentation takes place over a 3-6 week period at 21°-25° C. The wine is raised on its fine lees in the same barrel, with battonage, which keeps the lees in suspension and enriches the wine. The malolactic fermentation is generally avoided in southern French whites, in order to maintain freshness and keep them lively on the palate. The finished wine is then racked into stainless steel tanks a month before bottling.
Around 650 cases made.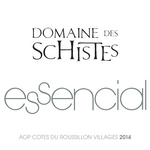 Essencial Rouge
AOP Côtes Du Roussillon Villages.
50% Carignan, 20 % Grenache Noir, 20% Lladoner Pelut, 10 % Mourvedre. Unoaked, raised in cement cuves. Full body with notes of ripe, dark fruits and spices. Fresh with silky tannins. 14.5% alcohol.



Côtes du Roussillon Villages - "Coumeille"
100% Syrah.
Tiny yields of 20 hl/ha.
Aged 22 months, including 16 months in 220 liters barrels.
15% Alcohol.



Muscat de Rivesaltes
This superb muscat is made from 80% Muscat Petits Grains (the type of Muscat grape which yields the most refined wines) and 20% Muscat d'Alexandrie. The schisteous soils and ridiculously low yields (20Hl/HA) produce wines of intensity and aromatic complexity.
The grapes are hand-picked by successive passes through the vineyard at 14 degrees potential alcohol. The Muscat d'Alexandrie undergoes carbonic maceration for 5 days. The Muscat Petit Grains, after a light pressing, is fermented under temperature control. 110 grams RS per liter (100 grams minimum by law). Certified Organic.



Rancio Sec
I.G.P. Côtes Catalanes
Grenache Blanc with a little Macabeu - Vines around 60 year old, producing small yields, about 20 hl/ha.
A traditional wine made in an oxidative fashion, Rancio is only sold by 30 producers. It is aged in barrels left untopped, in a solera system - Domaine des Schistes introduced this cuvée in 2004. 166 cases produced. 17% Alcohol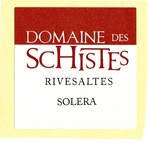 Rivesaltes Solera
Vin Doux Naturel
Small yields (30HL/Ha) of Grenache Gris (at least 40 year old vines) produce this intense and interesting wine. The grapes are picked at a slightly overripe level, around 15 degrees. The mutage is affected during the fermentation after a light pressing, then the wine is aged on the fine lees. Aging in large casks, 500 liters, for a minimum of 10 years. The wines undergo an oxidative process in cask, with young wine replacing the older wines being removed (the solera process), no more than 20% to 30% at a time. The oldest wine in the blend goes back to 1992.
This amber-colored wine has delightful aromas of dried fruits and caramel. The rich and generous palate has complex flavors of fruits, honey and nuts. 70 to 80 grams RS per liter
333 cases made.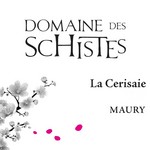 Maury - "La Cerisaie"
Vin Doux Naturel
100% Grenache Noir.
The grapes are coming from 40 year old vines located in selected parcels. They are hand-harvested and yield a tiny 25 hl/ha.
The mutage (addition of alcohol) takes place during maceration. Aged for 5 months in barrels. 80 grams RS per liter, which is low for Maury. 16% Alcohol. 583 cases made.