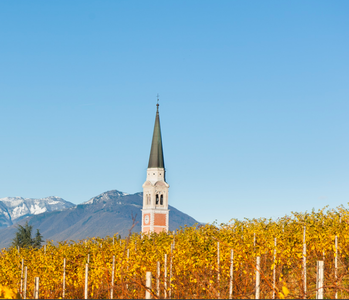 Cantina Beato Bartolomeo is a cooperative at the foothills of the Alps, in the Veneto.
On Valentine's day, in 1950, one hundred and twenty-one wine farmers from the Breganze district joined forces to create a new agricultural coop. They appointed Giorgio Laverda as their first president, and decided to name the coop after a local figure, who for centuries had deserved a mention: Bartolomeo da Breganze, 13th century friar and bishop. The Winery of Beato Bartolomeo da Breganze was thus created.
The coop currently boasts around 700 members, and has spent the last few years on improving every aspect of the production. Its agronomists advise members on varieties to be planted, growing techniques, pruning, and yield reduction. The wines are vegan.
Cantina Beato Bartolomeo Website

Breganze Pinot Grigio "Le Colline di San Giorgio"
The remarkable ubiquity of Pinot Grigio in northern Italy, especially in plains with prevalent slate soils, shows its excellent adaptation to the climate. The grapes for "Le Colline di San Giorgio" come from volcanic soils. The vineyards are on hillsides with southeast, south and southwest exposure. The winemaking techniques used by the coop strive to preserve the variety's unique aromas. Aged in stainless steel tanks, with two months on the lees. Lemongrass and citrus notes, mineral and well-balanced. 12% alcohol.



Vespaiolo Frizzante
Vespaiola is a variety of ancient origin, cultivated exclusively in the Breganze area. Its name comes from the word ìvespaî (wasp), an insect particularly attracted to the ripe Vespaiola grapes. The wine has a unique almond scent, accompanied by strong natural acidity. Its freshness and pleasant aromatics make it a versatile Frizzante. Charmat method. 2.5 atm of pressure. 11% alcohol. The cork is manually tied down with a string, according to the Veneto tradition.