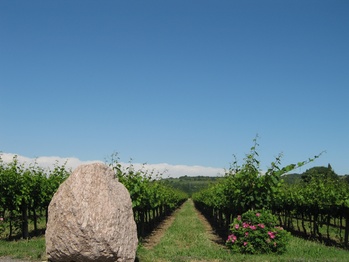 The area of Custoza lies along the southeast shore of Lake Garda, Italy's largest lake, in the heart of a group of post-glacial moraine hills. Due to the size of the lake and its moderating effects on the weather, it enjoys mild climate - the region's average temperature is increased by 10 degrees. Lemon and olive trees grow there, which is very unusual for northern Italy. There are 9 communes in Custoza: Sommacampagna, Villafranca, Valeggio, Peschiera, Castelnuovo, Soma, Samdra, Llazize, and Bussoleugo. The regional production is very small compared to Soave.
The original winery was founded in 1893 by Albino Piona, on one of the hills of Custoza. Albino bartered his services against land, started to grow vegetables, and opened a restaurant that became quite famous. The family closed it in 1978, to focus solely on wine production. In 2005, a new winery was built in Villafranca to allow for expansion and modern equipment. Today, the estate spreads over 81 hectares of vineyards, 9 of them in Custoza, all Guyot trained. Most varieties are machine-harvested, from August to October for the Garganega, which is the last variety to ripen.
The domaine is run by brothers and sisters Silvio, Alessandro, Massimo, and Monica. Silvio, the eldest son, supervises the winemaking and all winery operations, in collaboration with an oenologist. Massimo is in charge of the vineyards, while Alessandro directs sales and marketing. Monica promoted the winery on to the cultural scene, offering local and international artists an opportunity to exhibit. She also takes care of PR, tastings and direct sales to the public.
Farming practices: sustainable, no chemicals used.
Albino Piona Website

Custoza
40% Garganega, 10% Trebbiano, 10% Tocai Friulano, 25% Cortese, 10% Chardonnay, small amount of Riesling italico and Pinot bianco.
The vines are 15 to 25 year old. The wine is held in tank and aged on its fine lees until bottling, which usually takes place every 3 to 4 months, 30,000 bottles at a time. The date of bottling appears on the capsule. While lovely young, Albino Piona's Custoza takes beautiful mature aromas of quince and confit pineapple with age. 12.5% alcohol.



Bardolino
80% Corvina, 20% Rondinella.
Aged in stainless steel tanks for four months, with racking for aeration, goes through malolactic fermentation.
Cherry-plum fruits on the palate with earthy and savory notes, fresh and bright. Brilliant chilled!
12.5% Alcohol.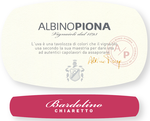 Bardolino Chiaretto
80% Corvina, 20% Rondinella
12 hour maceration on the skins produces a soft, pink-hued rose with flavors of red cherry, raspberry, strawberry, and a refreshing finish. 12% Alcohol. RS: 3 to 4 g/l.