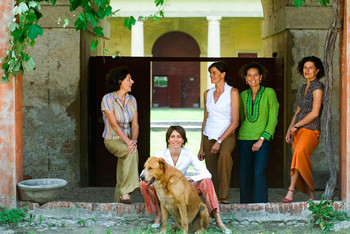 Azienda Agricola Villa Angarano is located in the easternmost part of the Breganze DOC area, northeastern Veneto, in the Municipality of Bassano del Grappa. The antique Villa, listed under the UNESCO World Heritage List since 1986, sits at the center of the estate. The domaine spreads over 50 hectares of land, eight of them dedicated to vineyards extending to the right bank of the Brenta river; historically, this river was navigated by vessels belonging to noble Venetian families spending their holidays in their Palladian villas. The unique microclimate of the area shows, during the summer months, great temperature variations between night and day, and allows for optimal maturation of the various plantations.
After almost seven hundred years of production using traditional methods, the estate in now in the hands of five dynamic sisters, the daughters of Michiel Bianchi. At the head of the estate is Giovanna Bianchi, with the help of consultant oenologist Marco Bernabei. She started in 2003 a long and challenging process of renovation of both the winery and estate. First step was the replanting of the vineyards: 1,5 ha of Vespaiola, 1,5 ha of Chardonnay, 2,5 ha of Cabernet Sauvignon and 2,5 ha of Merlot. The first harvest from the new vineyards was carried out in 2006, and the total production currently is a little under 3500 cases a year.
Farming practices: a conversion to organic farming was started in 2012.
Villa Angarano Website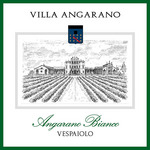 Vespaiolo
100% Vespaiola from east facing vineyards.
Extended cold fermentation and maceration in stainless steel tanks for one month, with aging on the fine lees for four months before bottling. Vivid lime nose. Lively citrus in the mouth, with great acidity and fruity juiciness, both characteristic to the Vespaiola grape. 4.5 gr. R.S. 13.5% alcohol. 1166 cases produced.
One may notice a similarity between the Vespaiola's name and a certain Italian scooter brand. Both names come from the Latin word "vespa" which means wasp. The scooter's name refers to the engine's buzzing sound, while the grape gets its name from the wasps that are attracted to its natural high sugar content when fully ripe.
Vespaiolo Breganze DOC is located at the foothills of the Alps. It contains a significant number of Vespaiola plantings. The grapes are vinified both in a dry style, and from partially dried grapes (passito), labeled as Torcolato. Vespaiola is thought to be native to the Veneto region, and is referenced in publications dating back to 1825. It it grown in a few areas in the Veneto (covering about 432 hectares of land in total), but its most important area of cultivation is the Breganze region.