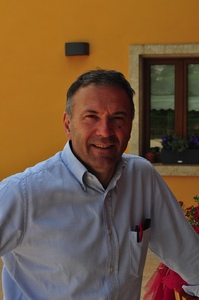 Corte Alta Fumane was created in 1996 by the Accordini brothers, Tiziano and Daniele, along with their children: Paolo in the winery, and Giacomo in the vineyards. Both brothers already worked as winemakers in the region. In 2000, they bought eight hectares of prime land in the very heart of Valpolicella, at the highest elevation in the appellation: 1700 feet. They started planting in 2001, and made their first vintage in 2005, with the Amarone.
Because of the high elevation, the grapes ripen ten days to two weeks later than the ones at lower elevation, producing firm skins that are very good for Amarone. There is higher acidity in these high elevation grapes, so their balance is perfect; they have no need for acidification.
Corte Alta Fumane Website
Valpolicella Classico "San Zeno"
65% Corvina Veronese, 30% Rondinella, 5% Molinara. Aged in stainless steel tanks.
San Zeno is the name of the vineyard. Pretty, almost sappy fruit, notes of violets, blackberry and black cherry. Fresh, with good weight and acidity. 13% alcohol.



Valpolicella Ripasso "Tornidora"
60% Corvina Veronese, 15% Corvinone, 20% Rondinella, 5% Molinara.
During the spring, finished Valpolicella Classico is left to ferment a second time and macerate for a week on the Amarone skins, which are still warm and contain plenty of sugar, flavors and aromas. The resulting wine gains an extra .5% of alcohol in the process, as well as texture and flavor. It is then aged for a year in 3 year old 500 liters tonneau previously used for Amarone. The result speaks of its mountain fruit terroir with deep, dark rich fruit and fabulous acidity.
Tornidora is named for the switchbacks necessary to wind your way up the Corte Alta vineyards.



Amarone Classico "Camparol"
75% Corvina Veronese, 20% Rondinella, 5% Molinara. "Camparol" refers to the specific "localita" of the winery.
In the "fruit house" (frutaio), a maximum of 6 kilos per basket is laid out for drying. There is a possibility of a mosquito problem, but it is unusual in September. To keep sanitary condition optimum, the airflow is monitored; in case of high humidity, the windows are closed, and a circular air flow is created with ventilators and fans. With evaporation, the fruit looses 25 to 30% of its must weight. The Amarone is pressed in the fruit house, gravity-fed to the winery below. The wine is aged for 24 months in 228 to 500 liters new French oak barriques - a mix of Allier to bring elegance, and Nevers for power. It spends an additional 8 months in bottle before release.