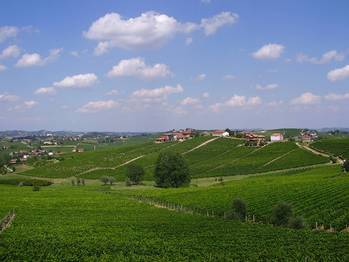 Scagliola is located in Calosso (Asti), a small village in southern Piedmont, on the last hills of Monferrato, at the edge of Langhe. The estate is run by brothers Maggiorino and Mario Scagliola and was founded by their grandfather in 1945. The previous generations were growers selling their wines in bulk. From 1980 onwards, the Scagliola brothers started investing in facilities to bottle their Moscato wines and subsequently bought rotofermenters for the red wines. The winery is state of the art and new buildings and machinery are continuously added to allow for growth.
Mario is in charge of the winery, while Maggiorino takes care of the vineyards. The domaine cultivates 28 hectares of Barbera, Moscato, Brachetto, Cabernet Sauvignon, Chardonnay, Dolcetto, and Merlot. A bit of sand, some layers of marl and a good dose of limestone characterize the soil.
Recognized regularly by Gambero Rosso, Wine Spectator and Parker, Scagliola is truly a hidden gem in the heart of Piedmont.
Scagliola Website

Barbera Mati
100% Barbera from 30 year old vines.
Is "Mati" the dog or the little girl? Short for Mathilde, this affectionate nickname is frequently used for either in Piedmont. Like either "Mati", this Barbera is young and energetic. Made in stainless steel with a small percentage of the Frem (aged in large Slavonian oak barrels). Around 2500 cases produced.



Barbera d'Asti "Frem"
100% Barbera.
"Il cane frem" means "The dog is pointing". In harmony with its name, this Barbera is focused and energetic.
The vines are 10 to 25 year old. The wine is aged in large Slovenian Oak barrels for about 12 months.
With aromas of wild currants and blackberry, this red has the ideal amount of acidity and depth. Medium body, high acid and bright fruit coupled with soft tannins. Around 3330 cases produced. 14% Alcohol. Gambero Rosso: Due Bicchiere.



Moscato d'Asti "Primo Bacio"
100% Moscato Bianco di Canelli - Moscato d'Asti DOCG.
With its intoxicating aroma and its mouth-filling sweet fruit flavors, this Moscato reminds one of their first kiss, says winemaker Maggiorino Scagliola.
5.5% Alcohol.