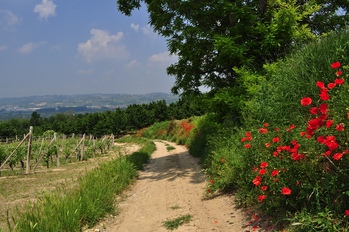 Poderi Roset is located in the town of Verduno, in the province of Cuneo. Silvio Busca, now in his forties, was the original winemaker when the estate was created in 1993 by Alessandro Brero. Silvio comes from a family that grows hazelnut trees (Piedmont is famous for hazelnuts) and he still has 20 hectares under production. He went to wine school in Alba and started making wine at Brero. Energetic and open to new ideas, he is part of a tasting group of winemakers who like to share their experience and tips. Silvio is married to Stefania, Alessandro Brero's daughter. In 2007, he and a partner, Alberto, bought the winery from Alessandro.
The domaine now comprises 12 hectares of vineyards, including one hectare of the rare Pelaverga di Verduno (only 8000 cases are produced in the entire DO) and 3.5 ha in Barolo. Silvio leases a portion of the Monvigliero ("mountain view") vineyard, 500 meters above sea level. Only three other producers work this vineyard. Since 2009, Silvio also makes a small cuvée from the Cannubi vineyard. The grapes for his Dolcetto and Pelaverga come from lower elevation vineyards with a northwest exposure; conditions not favorable to Nebbiolo, but that bring into balance these high sugar varieties.
Silvio's philosophy is: "Better work makes better wines, not machines". He dislikes sitting at a desk and enjoys spending time in his vineyards; some of which he owns, others he rents, all cultivated with the same care. Silvio never uses tractors for they would erode the soil. He brings cows to the vineyards every 3 years to plow the soil and has not used chemicals since 2006. He only employs two full-time workers to help him.
Winemaking: the grapes are basket-pressed, very gently, in small batches of 200 kilos. Malolactic fermentation happens naturally 15-20 days after the alcoholic fermentation, before the wines are put in barrels - mostly used barrels. The wines are notable for their suave textures and complex aromatics. They are vegan. Animal derivatives are never used in the process.
Poderi Roset Website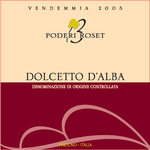 Dolcetto d'Alba
100% Dolcetto from a 1.67 ha vineyard in Dronera, Verduno. White and chalky soil, southwest exposure. The grapes are harvested around September 15th-20th and macerate for 8 to 10 days. The wine is aged for 9 months in stainless steel tanks and 3 months in bottle before release. 1083 cases made. On the palate, round and balanced, with pure, ripe fruit that becomes more intense as the wine opens up. This quality comes from the soil, similar to the one where Nebbiolo vines are planted. 13% Alcohol.



Verduno Pelaverga
100% Pelaverga.
Poderi Roset cultivates a tiny 1ha of Pelaverga, for which Silvio is grateful since the authorization for planting Pelaverga closed in 2011. He produces around 350 cases of this cuvée (the total production for all Verduno Pelaverga is about 8500 cases, with most coming from a few large producers).
Average of 8 to 10 days of maceration. Aged for 8 months in stainless steel, then 4 months in bottle before release. 13.5% alcohol.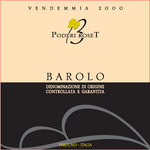 Barolo
100% Nebbiolo.
Average of 20 to 25 days of maceration, then about 24 months in wooden casks (2500 liters) that are between 2 and 15 year old, 50% Slovenian wood and 50% French. About 2000 cases produced.



Barolo - "Monvigliero"
100% Nebbiolo.
Average of 40 days of maceration, then 18 months in tonneaux (500 liters) and another 18 months in large barrels (2500 liters). Both are 50% French Allier and 50% Slovenian oak, 2 to 15 year old - For the tonneaux, 3% new every year. Pair with red meat and game. 14% alcohol. About 233 cases produced per year.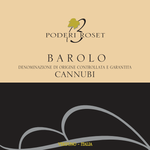 Barolo - "Cannubi"
100% Nebbiolo from a 0.5 ha parcel of vines that average 30 year old, in the famed Cannubi vineyard, 920 feet above sea level.
Soil: Tortoniano (tortonian-era soil), marl with tuff and a prominent presence of sand, making it always dry. Southeast exposure.
Average of 30 to 35 days of maceration, then 24 months in 500 liter tonneaux that are 1 to 7 year old. 14% alcohol. 100 cases produced.