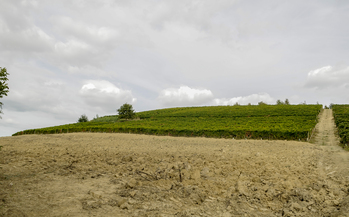 Azienda Agricola Gatto Pierfrancesco is run by the dynamic Pierfrancesco Gatto. His grandfather, Giacomo, established the estate at the end of the 19th century and sold his wines in Milano from his horse-drawn cart. The winery produced excellent wines and received the Gold Medal in Torino in 1964.
The 8 ha property is situated in the hills of Castagnole Monferrato, Montemagno and Refrancore. Plantings are composed of 3 ha Ruché, 4 ha Barbera, and 1 ha Grignolino, all Guyot trained. Through short pruning in the spring and green harvesting in the summer, yields are severely restricted. Vines are 230 to 260 meters (755/853 feet) above sea level, with a mix of south, east, west, and southwest exposures. The vineyards are planted to a density of 4900 plants per hectare with an average of 1,6 kilos of fruit per plant. Soils are sandy, with little organic substance but rich in potassium and magnesium. They are very "base" in their PH due to calcareous veins.
The cellar dates back to the middle of the 19th century. Today, it has cutting-edge vinification equipment, along with temperature-controlled rooms and stainless steel tanks. The barrels range in size from 225 liters to 500 liters to 20 hectoliters, all from tight-grained Slavonian and French oak.
Farming practices: Treatment of the vines follows both biodynamic and sustainable philosophies; copper and sulfur are used sparingly. The estate is in organic conversion, but not currently certified.
Gatto Pierfrancesco Website

Barbera d'Asti - Robiano
100% Barbera. Matured for a short time in stainless steel tanks before bottling. 14.5% alcohol.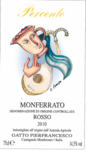 Percento - Monferrato Rosso
50% Ruchè, 30% Syrah, 10% Cabernet Sauvignon and 10% Albarossa grapes. The wine reflects the climate and viticultural vocation of the territory, in the heart of the Monferrato district.
10 day maceration and 18 day fermentation in 10hl stainless steel tanks, at 82F. Aged for 20 months in French tonneaux of 500 liters. Deep ruby color, rich nose of ripe plum, Marasca cherry, cocoa and nutmeg. A slight scent of pepper develops with time. Full-bodied, pleasant and lingering finish. Open a few hours before drinking and serve at a temperature of 64-68F. 14.5% Alcohol.



Caresana - Ruchè di Castagnole Monferrato
100% Ruchè.
The origin and history of this local variety are still an enigma, but the people of Castagnole have always had Ruchè in their heart … and cellar. It was the wine of special feasts and solemn occasions, occupying the "infernot", the most hidden niches of the cellars, which religiously guarded it as though it were every bit as precious as a reliquary. The production zone includes the municipalities of Castagnole Monferratto, Montemagno, Portacomaro, Refrancore, Scurzolengo, and Viarigi.
Pierfrancesco Gatto cultivates 3 hectares in Montemagno, on white tuffaceous soils, rich in sand and micro-elements. The south/southwest exposure of the vineyards enable the grapes to fully ripen. The resulting wine is deeply colored, with slight purple hues. Four days of maceration followed by eight days of fermentation at 79F in a tank, either stainless steel or glass lined cement.
This Ruchè has a fine, lingering, slightly aromatic perfume, with scents of fruit in syrup, blackberries, raspberries and geranium flowers. Its flavor is mellow and soft, slightly tannic with a pleasant aftertaste of dried cherry and fully ripened apricot. Open the bottle a few hours before drinking and serve at a temperature of 64°- 68° F. 15% Alcohol.