Situated in the south of the Saumur region, Domaine du Vieux Pressoir is a fifth-generation family owned winery. The current owner, Bruno Albert, bought the domaine in February 2015 and put the winemaking in the hands of a talented young couple, Virginie and Francois Prinsloo; he's South African and she is from Chinon. They both are trained oenologues and, between them, have a wealth of experience, having made wines in South Africa, New Zealand, Languedoc, and the USA. They focus on modern winemaking techniques in the areas of sustainability, yield management, weed control and thermal control. All stages of the vinification process are subject to meticulous care and attention, resulting in wines of exceptional quality. The estate spreads over 26 hectares planted with Chenin Blanc, a little Chardonnay and Cabernet Franc.
Farming practices: sustainable. The wines are to this date vegan (July 2016).
Domaine du Vieux Pressoir Website

Saumur Fines Bulles
This Méthode Ancestrale sparkling from the western Loire is a blend of 70% Chenin Blanc, and 30% Chardonnay, harvested at optimum ripeness. Each is vinified separately, at very cool temperatures in stainless steel tanks to capture the delicate aromas. The bottles are left 12 to 15 months "sur lattes" (on the fine lees) before disgorging, which develops a level of complexity not usually found in wines from this region. A bold and fruity sparkling with great acidity. About 5 grams of RS per liter.



Saumur Fines Bulles Rosé
This Méthode Ancestrale sparkling is 100% Cabernet Franc, and usually comes from a single vintage. The vines range from 18 to 30 year old, and are planted on limestone soil with grass growing between the rows. The grapes are destemmed and macerate for 24 hours at 16° C to preserve the freshness of the aromas. The wine is vinified and aged in stainless steel tanks, with blocked malolactic in order to keep its vivacity. It is aged for 15 months on its fine lees, then a final dosage of 0.9 grams sugar/liter is added, giving 5 grams of RS per liter. Delicate and fresh bouquet of red fruits, firm acidity. It is perfect as an aperitif and pairs beautifully with savory/sweet pairings.



Saumur Blanc - "Elegance"
100% Chenin blanc, from 18 to 30 year old vines, grown on Jurassic soil.
Vinified in stainless steel tanks. This dry white is made in a style called "Sec Tendre", in other words dry, but not harshly so. Nose of ripe white fruits, and a floral touch. Fairly fleshy, suave harmonious palate. The Chenin gives an elegant complex aroma to this light and delicately fruity wine. The mid-palate is marked by well-balanced liveliness and lovely exuberant fruit. A very easy to drink Chenin Blanc. 13% alcohol.



Saumur Rouge - "Les Silices"
95% Cabernet Franc, 5% Cabernet Sauvignon. The vines are 15 to 25 year old and grown on Jurassic soil. Vinification in tanks, 10 to 12 days of maceration. Cherry-red with dark purple tints. Pleasant nose of violet, cassis and redcurrant. Full attack, concentrated, fresh and crunchy palate showing lovely intense, focused aromas mirroring the nose. Spicy finish. Serve cool. 12.5% alcohol.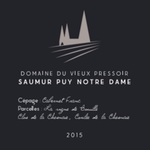 Saumur Rouge - "Puy Notre Dame"
Puy Notre Dame appellation was created in 2009, and is only for reds. So far, the appellation is only 100 hectares, shared by 30 producers. 100% Cabernet Franc. 18 to 35 year old vines from the best parcels, grown on Jurassic and Turonian soil. Vinification in tanks, 18 to 20 days of maceration.
This blend comes from a selection of parcels situated on the domaine's best soil, where Cabernet Franc expresses all its aromatic complexity. The best care is given to the vines in order to get high quality grapes and the perfect ripeness. The vinification and the maturing of this wine make it robust with silky tannins. Aromas of red and black fruits, lightly stewed, with a beautiful persistency in the mouth, perfect for aging. Serve at a low room temperature (57°F to 61°F). 13% alcohol.