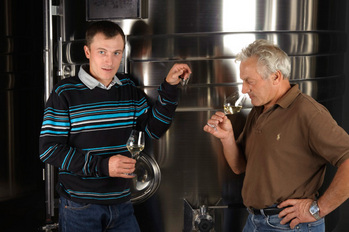 See recent press for Jean-Paul Picard SANCERRE The Picard family has been making wines in Sancerre since the 1600s. Today they produce 8,350 cases between the two cuvées of white wines, the red and the rose.
The wines produced by this small, 14 hectare domaine (spread over 45 different parcels) are proof that not all Sancerres are created equal. As Sancerre is a large appellation, the best villages have developed their own reputation for quality, with Bué considered one of the finest. The vineyard slopes surrounding this hamlet have outstanding clay-limestone soils, sunny southwestern exposures and ideal elevations which Picard farms sustainably (culture raisonnée). Picard always harvests his grapes manually (90% of the producers in Sancerre harvest mechanically) and he makes his fine Sancerre Blanc from the very select Grand Chemarin and Chene Marchand vineyards.
Superb terroir and limited production translate into very generous and gratifying wines.
Farming/winemaking practices: sustainable. Grass is allowed to partially grow in the vineyards. The wines are vegan - the whites and rosés are fined with bentonite while the reds are unfined.
Jean-Paul Picard Website

Sancerre Blanc
100% Sauvignon Blanc
Picard's Sancerre Blanc comes from the magnificent clay-limestone, south-facing slopes of the Grand-Chemarin and Coteaux de Marloup vineyards from vines 30 years and older (yields around 55hl/ha). Picard has planted Sauvignon Blanc clones that produce small berries of aromatic intensity.
The grapes are hand-picked, pressed gently (whole clusters, which helps drain and extract the juice), then cold racked (debourbage a froid). The wine is fermented very slowly with 70% natural yeast and aged sur lies during a minimum of 4 months. The goal is to maintain the bright aromatics and freshness of the lively Sauvignon Blanc fruit.
Picard's Sancerre represents the pinnacle of stainless-steel fermented Sauvignon Blanc. Pale-gold in color, the best Sauvignon Blancs have a fresh grass, minerally bouquet, full-bodied on the palate with a clean, refreshing finish. Never exaggerated or overblown, this wine's elegance and balance make it an ideal match for a range of white meat and fish dishes. 5835 cases average.



Sancerre Blanc Cuvee Prestige
100% Sauvignon blanc
Only made in best years, this wine comes from the three best and most renowned terroirs of Bué: Grand Chemarin, Chene Marchand and La Paquerette. These old-vines vineyards (60+ years) all share a southern exposure. The grapes are hand-picked and sorted in the vineyard. Because of the very low yields of these vines (40 hectoliters per hectare), the grapes are very ripe (between 3 and 5 bunches per root). After whole-cluster pressing and cold-settling, the alcoholic fermentation starts with natural yeasts, very slowly. The goal is to preserve the maximum expression of fruit and terroir. A part of the juice, 80%, remains in tanks and the other 20% is raised for 4 to 6 months in 400 liter barrels (50% new oak and 50% one year old barrels, medium toast from Allier wood). The lees are worked regularly (batonnage every week at the beginning for the barrels, every 2 weeks for the tanks) in order to bring out more fruit and fat during the aging process. Before bottling these two parts are blended. Fined and filtered. About 3000 bottles produced.
This refined white wine is pale gold in color and displays delicate white peach and floral aromas, with a rich, full mouthfeel and long finish. This wine is very drinkable on its own, but shines as a perfect complement to fish and shellfish. This wine is enjoyable now, but will continue to develop and age for the next 6 to 8 years.
Guide Hachette, highest rating of three stars.



Sancerre Rosé
100% Pinot Noir from 15 to 20 year old vines, grown on a clay/limestone soil. The grapes are manually harvested, then go through pneumatic pressing and cold racking. Fermented with 70% indigenous yeasts. Aged on its lees for a minimum of 4 to 6 months, then fined and filtered before bottling.
Jean-Paul Picard makes a Pinot Noir rosé that is every bit as compelling as his Sauvignon Blanc – unabashedly purist in style, this wine exhibits the pure essence of Pinot Noir: strawberry and raspberry fruit, chalky minerals, earthy counterpoints to the fruit, and vivid acidity. 666 cases produced.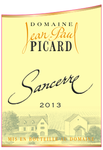 Sancerre rouge
100% Pinot Noir, from vines 30 year old.
Soil: Clay/ Limestone.
Yields: 50 hl/ha. The vines are cordon/spur trained (a method that produces less shoots) to generate lower yields and more concentration.
Debudding and green harvest, leaving 8 to 10 clusters per vine for better concentration. The grapes are manually harvested, then go on a vibrating sorting table. Cold maceration from 48h to 72h to obtain more color and aromas. Fermented with 70% indigenous yeasts and aged for a minimum of 10 months. Fined and filtered before bottling.
A rich Sancerre, with plenty of flesh and powerful aromas of red fruits (cherry and raspberry). Can keep for 7 to 8 years. 1333 cases produced.