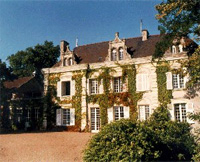 In 1996, Philippe Germain's father, Bernard, bought Château de Fesles along with Château de la Guimonière and Château de la Roulerie from pastry chef Gaston Lenotre, who died at the beginning of 2009. Lenotre had bought these wineries in a fit of enthusiasm in 1991 following the wonderful vintages of 1989 and 1990, which unfortunately were followed by the severely frosted 1991, very mediocre 1992, average 1993 and difficult 1994. Making great sweet wines in the Loire is risky. Fesles and Guimonière were sold off and they kept the gem, the ancient Château de la Roulerie, whose origins date back to the 11th century. Philippe has been living at Chateau de la Roulerie since 2001 but it is only more recently that he has stamped his authority on the domaine. Indeed until recently all the wine was made at Château de Fesles with Bernard overseeing the operation, and with the help of brother Thierry. In 2004 Philippe took full control, and with him firmly in place operations moved to Roulerie in 2008, after renovation of all the buildings and installation of the equipment. Remarkably, this was the return of winemaking to the domaine after a 20 year hiatus, wine having last been made here only before the property was sold by previous owner Jadeau to the chef Lenôtre. The domaine has a total of 42 hectares, 38 of them planted, divided between La Roulerie (24 hectares) and Les Grandes Brosses (18 hectares), for a total of 17 parcels. All the wines come from their estate fruit, encompassing Anjou Rouge (20% of the production amongst 3 cuvées: Château de la Roulerie, Les Terrasses, Les Mérances), Anjou Blanc (5 cuvées: Le Petit Chenin, Les Grandes Brosses, Château de la Roulerie, Les Terrasses, Magnolia), Coteaux du Layon and Coteaux du Layon Chaume. The vines are planted at a dense 4500 plants per hectare on schistous soils, ideal for fine wine production. The vineyards are all on the slopes and oriented South-Southwest, critical for even ripening in this northerly vineyard. Yields are kept to a low 25-30 hectoliters/ hectare. Dry white wines are only produced since the beginning of 2000. They were first going through malolactic fermentation (no more), had a little residual sugar and a strong oak character. The style has since evolved in favor of more balanced whites with higher acidity, more elegance (no more batonnage and skin contact) and discrete oak (Philippe now uses larger barrels, 600 and 700 liters). The wines are lightly filtered but never fined. There is very little free SO2 on the whites, 15 to 20 mg per liter.
Farming practices: Certified Organic since the 2015 vintage. Since 2011, Philippe has started to convert to biodynamie and face the number of challenges presented by the conversion. The wines are vegan.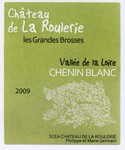 Anjou Blanc - "Les Grandes Brosses"
100% Chenin blanc
Philippe Germain doesn't believe in high alcohol for Chenin Blanc, thinking around 13% works best. Manual harvest, picking in tries, facilitates the management of ripeness and alcohol, as well as allowing for some fruit to be directed into sweeter Layon cuvées rather than dry Anjou. Philippe has moved away from barriques, however, and now Roulerie whites will be fermented in stainless steel or large wooden vats, without malolactic fermentation which he does not favor. This reflects Philippe's philosophy, stating that he "doesn't use oak for the oak"; he is not looking to mark the wine with the aromas or flavors of wood, as he believes top quality Chenin Blanc simply doesn't need or benefit from the treatment. This wine is vinified in 2 to 4 years old 400 litre casks for 20 days and then aged on the lees for 4 to 6 months with weekly stirring of the lees in barrels with bottling in September. Certified organic. 2000 cases produced.



Anjou Blanc - "Les Terrasses"
100% Chenin blanc hand harvested from a 2.6 ha parcel located on a hill side, with clay soil. Aged in casks. Decant before serving.



Anjou Rouge
100% Cabernet Franc.
The hand-picked grapes are carefully sorted, then destemmed and placed in stainless steel vats at 86-91°F, with frequent pumping over. Maceration lasts 8 to 15 days. The wine is left to mature on its lees for 3 to 4 months, then left in bottle for 6 months before release. Deep red color with an enticing bouquet of forrest berries. The wine is a fine expression of mature Cabernet Franc, round, supple and elegant. 1000 cases produced.



Anjou rouge - "Les Mérances"
Field blend of Cabernet Franc (90%) and Cabernet Sauvignon, hand harvested, from 80 year old vines. Whole cluster fermentation. Aged in 32 hectolitres wooden vats for 4 to 5 months. Harmonious nose of ripe red fruits. 12% Alcohol. 358 cases produced.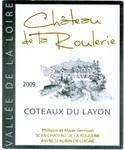 Coteaux du Layon
100% Chenin blanc.
The botrytised Chenin grapes are picked by hand. The whole process is adapted to the character of the grapes in order to enhance as much as possible the bouquet and taste: carefully hand-harvested, delicate crushing, a cool, slow fermentation. Then ageing takes place in 400 litre casks for 12 months.
The bouquet gradually reveals its complex notes, with at first a flowery blossom then, after aeration, white fruits (peaches, pears, quinces) and grapefruit appear. A slight hint of vanilla notes, in the end, reinforces this fine, sweet wine. Richness, smoothness and persistence are the highlights of this wine.