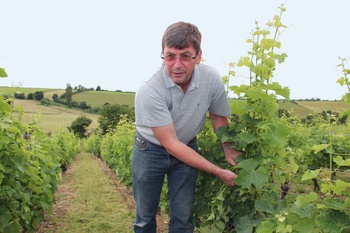 The Clément family has been wine-growers in Menetou-Salon since 1560 (16 generations). Now joined by their daughter Anne, Isabelle and Pierre Clément own 70 hectares of the finest, south-west exposed hillside vineyards in the appellation. Menetou-Salon is a quaint country village about 20 minutes southwest of Sancerre. The production is 65% white wine from Sauvignon Blanc and 35% red from Pinot Noir (about 10% is rosé). While Menetou-Salon is on the same side of the Loire River as its more famous neighbor Sancerre, it has the same fossil-rich Kimmeridgian limestone-clay soils that are prevalent in Chablis. These Kimmeridgian soils impart the distinctly complex, aromatic and elegant personality to Châtenoy's wines. Total production is around 600,000 bottles per year. 2015 vintage report: After a very hot and dry summer, the Cléments started picking their Sauvignon Blanc on September 10th 2015 and their Pinot Noir vineyards on September 16th, both almost three weeks earlier than in 2014. The fruit was in perfect condition, although some parcels had suffered from the drought. Beneficial rain fell over the first days of picking. It was quickly absorbed by the dry soils and helped check over-concentration of the juice within the grapes. Harvest continued until October 4th under perfect conditions. Farming/vinification practices: Certified Terra Vitis. The Cléments have been practicing sustainable viticulture through meticulous, hand vineyard work for generations, long before the term acquired its present marketing connotation. Grass is left to grow between the rows to protect against rot (it absorbs moisture). Only indigenous yeasts are used. All the tanks are temperature-controlled through a central computer that can be accessed remotely.
The wines are vegan.
Isabelle et Pierre Clément (Châtenoy) Website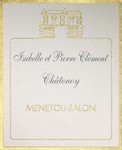 Menetou-Salon Blanc
Pierre Clément has raised the quality of his Menetou-Salon Blanc to new heights. He has equipped his winery with the most up to date equipment, to ensure the most gentle handling of the fruit and the full extraction of aromas and flavors. Once picked, the fruit descends to the winery by gravity flow and is selected on a sorting-table. Clément vinifies his Sauvignon Blanc grapes using one-third maceration pelliculaire or maceration with the skins, followed by a gentle, pneumatic pressing. The juice rests in tank for 10 days at a very low temperature of 39.2F to stabilize and develop aromas and flavors. It is cleared (débourbage) and the temperature of the tanks is allowed to rise as the alcoholic fermentation begins slowly, using only native yeasts. The young wine is left on its fine lees in temperature-controlled stainless steel tanks through the winter and is bottled after a light filtration in March. This is an amazingly vivid white, bursting with pure aromas of citrus, white peach and flowers. On the palate, it has a precise concentration with long-lasting flavors of red grapefruit, apricot, and minerals.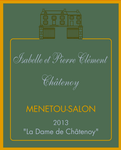 Dame de Châtenoy
La Dame de Châtenoy is made from 100% Sauvignon Blanc grapes, mostly from a single parcel with 40-year-old vines. The grapes are picked by hand at maximum maturity, 10 days later than the fruit for the Menetou-Salon Blanc. It is vinified and aged in stainless steel tanks, for 10 months on the lees before bottling. The lees are regularly stirred to attain a richly textured, full bodied yet fresh and pure wine. It offers a unique expression of Sauvignon Blanc.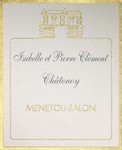 Menetou-Salon Rose
Pierre Clément studied oenology in Dijon and his savoir faire with Pinot Noir is evident in the domaine's rose and red wines. His Menetou-Salon Rosé is made from 30-year–old vines planted on ideal clay-limestone soils. The grapes are all harvested by hand and yields are kept to 45hl/ha. The Pinot-Noir fruit destined for the Rosé is hand-picked at full maturity, at the same time as the grapes for the domaine's Menetou-Salon Rouge. The Rosé and Red Pinot Noir wines are made from the same parcels picked at the same time. The Rosé represents 20% of the domaine's red wine production. Once picked, the fruit descends to the winery by gravity flow and is selected on a sorting-table. The whole clusters are pressed using a pneumatic press while being protected from air contact. The juice rests in tank for 10 days at a very low temperature of 4C to stabilize and develop aromas and flavors. The juice is cleared (débourbage) and then fermentation begins naturally with the native yeasts. This phase lasts for about one month at low, controlled temperature (15C) in stainless steel tanks. The young Rosé is then aged in tank on its fine lees until bottling in February.
Light pink color, extraordinary aromatic character and, mineral inflected strawberry, cherry and pomegranate pure Pinot Noir fruit. On the palate, the sensation is at once rich, expressive and very fresh. About 1500 cases are made annually.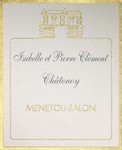 Menetou-Salon Rouge
Pierre studied oenology in Dijon and his savoir faire with Pinot Noir is evident in the Menetou-Salon Rouge. It is made with hand-harvested Pinot-Noir from 30 to 50-year-old vines. The fruit is selected on a sorting table and not-destemmed. Vatting lasts 15 to 20 days in temperature controlled tanks with regular pumping over (remontage) and pushing down of the skins (pigeage) in order to attain the highest level of extraction of color and flavor as possible in the vintage. Fermentation begins with only native yeasts. The young wine is then moved into oak casks, one third of which are new each year, where it undergoes its malolactic fermentation. The aging period lasts a full year: the wine is bottled in the Fall, before the next harvest, and is then aged for 6 months in bottle before release. Approximately 4000 cases are produced each year. Juicy, dark-berry flavored Pinot Noir that has all depth, complexity and personality of a villages wine from the Côte d'Or.