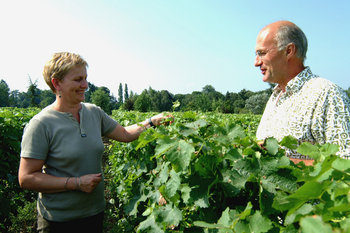 See recent press for Domaine du Tremblay QUINCY
Quincy (pronounced CAN-SEE) is located just west of the famous vineyards of Sancerre in the central Loire Valley. This tiny appellation lies in the shadow of its very large neighbor Sancerre, along the River Cher. It consists of only 270 hectares of plateaux vineyards made up of old sand and gravel, shared amongst about 25 producers. This whole area of France was covered by an ancient ocean and the resulting limestone soils are ideal for Sauvignon Blanc cultivation. A pneumatic press employing low pressure is used for a controlled extraction and for preservation of the complete aromatic spectrum. The temperature controlled fermentation occurs in stainless-steel tanks with battonage of the fine lees for greater richness and texture.
Jean Tatin and Chantal Wilk started the Domaines Tatin more than 20 years ago. Their daughter Maroussia joined them in 2010. They only make wine from their estate vineyards. The cuvées of Quincy are sold under Domaine du Tremblay (23 producing hectares, soon increasing to 30 hectares) and Domaine des Ballandors, and the cuvées of Reuilly under "Les Demoiselles Tatin" (4 hectares total, mostly Pinot Noir with the parcel "La Commanderie" and the rest for Sauvignon Blanc and some Pinot Gris). There are two separate cellars, one in Quincy and one in Reuilly. The total production is 170,000 to 200,000 bottles per year, with 10% red - under the Reuilly appellation.
Farming/winemaking practices: Sustainable. Weeds are planted between the rows to control the vigor of the vines and insure high quality grapes. The vines receive minimal treatments. The wines are vegan - no animal derivatives are ever used. The whites are fined with bentonite, the Reuilly is unfined.
Domaine du Tremblay Website

Quincy
100% Sauvignon Blanc. Flat vineyards. Average yields 40 to 50 hectoliters per hectare.
- Les Rimonets : 20 year old vines. Sandy loess on clay gravels
- Les Coudereaux : 20 year old vines. Sandy loess on clay gravels
- Chaumoux : 40 year old vines. Clay gravels on limestone/marl
- Les Nouzats : 40 to 60 year old vines. Sandy soil.
- Le Buisson Pouilleux : young vines on clay gravels
75% 20 year old vines, 25% older vines (40 to 60 year old), tiny % of young vines. Aged on lies.
Notes of lime on the nose and concentrated citrusy flavor in the mouth, but it also expresses strong mineral aromas and flavors. Pair with seafood and oysters. The label is from Les Très Riches Heures du Duc de Berry and represents the castle of the first duke of Berry.
12.8% alcohol.


Les Demoiselles Tatin - Reuilly
100% Pinot Noir
From young vines planted in 2003 on sand/clay soil, in the vineyard of "La Commanderie", in the town of Preuilly. The grapes are hand harvested and brought in small boxes to the cellar, where they undergo a maceration under carbon dioxide, at 10°C, before the fermentation. The fermentation takes place slowly between 25 and 29°C. A one week maceration follows the end of fermentation. Part of the wine is aged in tank, the rest in 4 year old oak barrels. Red fruits aromas and spicy mouth. A versatile red to enjoy with poultry, red meat or even fish.
Around 1400 cases produced.
12.5% Alcohol.