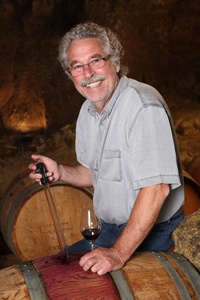 After founding Domaine de la Taille aux Loups in 1989 and bringing its wines to international acclaim, Loire master Jacky Blot acquired Domaine de la Butte in the appellation of Bourgueil in the summer of 2002. He seized upon the opportunity to make equally great reds by acquiring an ideal bloc of Cabernet Franc vines averaging 30 years of age entirely on one, south-facing slope bordered by protective forests in Bourgueil. The entire slope has a bed of limestone rock and different top-soils and microclimates. The variations give rise to the three cuvees that Blot crafts at his Bourgueil domaine. He aims to produce dramatic, intensely flavored and original red wines. Farming practices: All the rows are plowed and no chemicals are used in order to encourage the roots to penetrate deep into the subsoil. Yields are kept low by removing buds at the beginning of the growing season and green harvesting in August. Leaves are removed in order to increase exposure to the sun, ensure aeration of the vines, and facilitate hand harvesting. All grapes are hand selected and picked at optimal maturity and then placed in small boxes for transport to the winery, where they are further sorted on a table de tri. The fruit is destemmed and descended by gravity into wooden and concrete fermentation tanks. Blot ferments each cuvee for different periods of time, using only native yeasts.
Vegan: The wines are not fined or filtered, therefore can be consumed by vegan. They are clarified only by several rackings.
Domaine de la Butte Website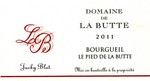 Bourgueil - "Pied de la Butte"
100% Cabernet franc from 30 to 40 year old vines, small yields (35 hectoliters/hectare)
Le Pied de la Butte comes from a clay-limestone soil located at the bottom (foot or pied) of the slope. It is vinified and aged in stainless steel tanks to be enjoyed upon release in the Spring following harvest. The wine offers generous, savory black cherry and cranberry fruit with a soft texture.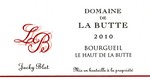 Bourgueil - "Haut de la Butte"
100% Cabernet Franc
The Haut de la Butte cuvee comes from the perfectly exposed upper slope on a unique clay and silex top-soil over a bed of limestone. The fruit here is bright, pure and very expressive, offering deep and complex flavors of black berry/cherry fruit and minerals. It is aged in 2-3 year old barriques and bottled before the next harvest.



Bourgueil - "Mi-Pente"
The Mi-Pente bottling is the most concentrated cuvée, as it comes from the oldest vines, which are 60 to 70 year old. The yield is tiny, 10 to 20 hectoliters per hectare. And just as in Burgundy, his best fruit comes from the middle of the slope - a part where there is very little depth of soil and where the vine roots encounter the rock almost right away. The wine is given a one-month long maceration period, and is then aged for 18 months entirely in barriques made for the domaine in Burgundy from Allier and Tronçais oak, which are 50% new and 50% one year old. This great Cabernet Franc - Jacky's "grand cru"- is always the last to be bottled and is produced in very limited quantities.