Domaine Nebout is a family estate making wine for three generations, with 45 hectares of vines. Julien Nebout is involved in the domaine since 2006, following the steps of his parents, Serge and Odile Nebout. The domaine produces red and rosés wines from Pinot Noir and Gamay and white wines from Chardonnay and Tressalier. The later is a variety from the north-eastern France also known as Sacy (a village south of Reims). It was mainly cultivated in Burgundy, north of Dijon and nearly died out during the phylloxera. There are only 40 ha of Tressalier left in France and it is now a specialty of Saint-Pourcain. Domaine Nebout is one of the rare producers to make a cuvée of 100% Tressalier.
Domaine Nebout Website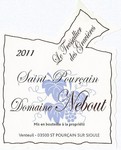 Saint-Pourcain Blanc - "Tressallier des Gravières"
100% Tressallier from 20 year old vines, trained on 2.2 meter-high trellises, at 300 - 400 meters altitude.
Yields: 40 hectoliters/ha
Soil: clay-limestone sub-soil.
The grape bunches are sorted and de-stemmed. Nebout imposes a pre-fermentation cold maceration (at 4° Celsius) in stainless steel tanks. 85 % of the must is fermented and raised in steel tanks, with 15% fermented and raised in oak barrels (4 to 6 year old). Tangential filtering is employed, in which the wine is aspirated through neutral ceramic filters, thus avoiding pumping, which traumatizes the wine. Final blending takes place in January.
Aromatic bouquet with floral (cassis buds), mineral and citrus notes (grapefruit), fresh and well-balanced, long finish. Pairs well with white fruits, nuts, cheeses, fish dishes and white meat.Try it with ossobucco or roasted monkfish.
12.5% Alcohol.