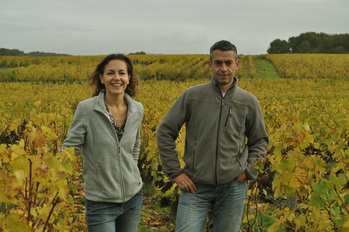 Christiane and Alain Robert founded the domaine in 1973. They are located in Chançay, just east of Vouvray. Their 38 hectares of vineyards, situated around the estate and in the neighboring village of Noizay, are mostly planted with Chenin Blanc, on silex and clay-limestone soil. Chardonnay, Grolleau and Chenin Noir (Pineau d'Aunis) are also cultivated on a few parcels. Their son Cyril, who trained in Champagne, joined them in 2000, followed by his sister Catherine two years later. Catherine brought with her ten years of experience gained in the Loire, including working alongside Jacky Blot at Domaine de la Taille aux Loups.
The domaine produces a full range of Vouvrays, sec to demi-sec, moelleux and liquoreux, as well as some méthode traditionnelle Vouvray and Touraine. Farming practices: Sustainable. Grass is allowed to grow between the rows and no chemical fertilizer is used. Organic matter is brought in to nourish the parcels, starting at the end of autumn. Pesticides are only used if absolutely necessary, and are in part of the vineyards replaced by biological pest control.
Alain Robert Website

Vouvray Brut
100% Chenin Blanc from 15 to 20 year old vines. Aged for 6 months in stainless steel tanks, then sur lattes for 16 to 24 months. Nose of white fruits, with notes of acacia flowers, apple, pear and toasted pistachio on the palate. Fresh and elegant finish. Méthode traditionnelle.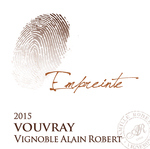 Vouvray Sec - Empreinte
This cuvée was made for the first time in 2014. 100% Chenin Blanc from 30 to 50 year old vines grown on clay/limestone and clay/flint soils. The damaged and rotten grapes are removed by hand before the harvest. The wine is aged for 6 months in stainless steel tanks before bottling. Notes of citrus, acacia flower and linden. 3 to 4 gr/liter of residual sugar.



Vouvray Sec - Ammonite
This cuvée was first produced in 2013. 100% Chenin Blanc from vines grown on clay/flint soil, coming from three parcels south-east of Chançay, amongst the oldest. The grapes were hand-harvested at the beginning of October, then sorted to only keep the ones at optimum maturity. Fermented with indigenous yeasts then cold-settled in stainless steel tanks. Aged on the fine lees for 12 months, in 228 liters barrels - 25% new, with the remaining one to three year old. Light filtration before bottling. Aromas of pear and vanilla alongside mineral notes.