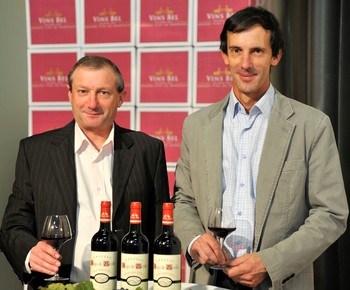 In the spring of 1966, Roland Bel bought Château Cap de Merle, which at the time included a vineyard of 3 hectares. Today, the estate is run by his two sons, Alain and Jean-Marie, and the vineyards spread over 25 hectares.
Farming practices: sustainable. Each vine has a fifty-year lifespan, and thus it is of utmost importance to protect its health for the long term. The vineyard is continuously monitored to ensure that enemies, such as parasites or fungi, are kept to a level below threat. For example, natural predators are encouraged to check the presence of larva from moths (cochylis and eudemis) whose eggs form tiny ruts on grape skins and thus enable the onset of grey rot. As a result of this practice, more intensive treatments are unnecessary.
Chateau Cap de Merle Website

Lussac St Emilion
80% Merlot, 10% Cabernet Sauvignon, 10% Cabernet Franc. The vineyards are on a plateau in the commune of Lussac St-Emilion - 5 miles north-east of the town of St-Emilion. Their excellent exposure ensures optimal ripeness of fruit and supple tannins. The climate is Atlantic, with humid winters and warm and dry springs and summers. The soil is silt and sand, with a subsoil of clay mixed with traces of iron-oxide. The vines average 25 year old. The merlot is harvested first, usually mid-September, followed by the Cabernet Sauvignon late September.
2 days of cold maceration for 10% of the volume, and then 3 weeks of maceration and fermentation, with indigenous yeasts. Aging in stainless steel tanks for 18 months, under a blanket of inert gas. The wine is assembled the February after the harvest and bottled in January. Pure, rich and savory fruit.