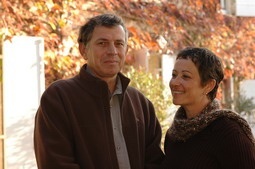 Chateau La Rose-Pourret, an 8 hectare property in one block, has been owned by the Warion family for over 100 years. It is located just beyond the clock tower and walls of the town of St Emilion, at the start of a slope leading to the area's best terroirs. The vines are 40 years old and the soil is a mix of clay and sand over an iron-oxide subsoil.
Chateau la Rose-Pourret Website

St Emilion Grand Cru
70% Merlot, 30% Cabernet Sauvignon.
Beginning with the 1998 vintage, the Warrions have made dramatic improvements, raising the quality of Ch. La Rose Pourret to the level of a Grand Cru Classe. This was achieved by adopting traditional farming methods, including leaving partial grass cover and minimal natural fertilizing, in order to reduce the yields. A green harvest and leaf-stripping are carried out to ensure the perfect ripening of the fruit. The grapes are harvested by hand, carefully sorted, and destemmed before fermentation. The maceration period lasts between 3 and 4 weeks and the wine is micro- oxygenated in concrete tanks to enhance the expression of fruit. Chateau La Rose Pourret is aged in oak casks for 14 months, of which 40% are new each vintage. Malolactic fermentation takes place when the wine is in barrel to develop its soft texture and integration of the oak. The Warion family aims to produce a rich, elegant and complex St- Emilion, which has taken its place as one of the stars of its appellation.
The 2010 Chateau La Rose-Pourret has ripe, sumptuous dark fruit and a lush and silky texture.