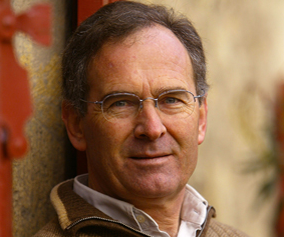 The vineyard of Chateau Laclaverie is dominated by a square tower constructed by the English during the Hundred Years war. Renovated by George Thienpont during the 1970s, the vineyard became the property of his son Nicolas in 1984. Nicolas Thienpont has a solid reputation as a winemaker, after managing several Premier Grand Cru Classé in Saint Emilion.
Chateau Laclaverie used to only produce red wine but since 2006, Nicolas Thienpont has been uprooting the Cabernet vines to replace them by white grapes, better suited to some of the soils present on the estate. A lot of care and passion goes into the production of both white and red wines, and special attention is given to picking the grapes at optimum maturity.
Farming practices: sustainable.

Francs Côtes de Bordeaux
85% Merlot, 15% Cabernet Franc.
Density : 5500 vines/ha - soil: clay-limestone, marls and silts on a sub-soil of clay. Average age of the vines : 40 years.
Vineyard management: traditional light ploughing and aeration of the soil with inter-row planting of cereals in the winter, de-budding, leaf-thinning...
The grapes are destemmed. Vats: concrete thermo regulated vats - Aging: 80% of the wine is aged 12 to 16 months in concrete vats, the rest is aged 10 to 12 months in barrels. First racking after 6 to 10 months (before the summer), second racking before bottling. Fining and filtration if necessary. 3000 cases made.