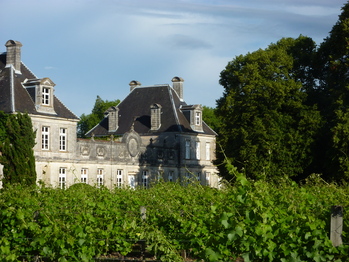 Xavier and Caroline Perromat bought Chateau de Cérons in June 2012. The Chateau has been built beginning of the 18th century, and was the residence of the Marquis de Calvimont, political and military family from Normandy. The Duc de Richelieu, Minister of Louis XV, used to come to Chateau de Cérons, one of his favorite residence. With the purchase came Chateau du Mayne, which Xavier and Caroline are renting. Xavier had been working in Chateau de Cerons with his father Jean Perromat since 1981 (the Perromat family has been in the Bordeaux region since the 16th century) and Caroline had been working at Chateau Haut-Bailly, Cru Classé de Pessac Léognan, for 15 years.
Now they are focusing their efforts on the management of the vineyard, the planting of Merlot vines surrounding the Chateau and the renovation of the cellar (new equipment and temperature control system)
In April, they decided to open the Chateau to the public, which coincided with the inauguration of "La Route des Vins de Graves".
Chateau du Mayne Website

Graves Blanc
75% Sémillon, 25% Sauvignon.
Soil: Mixed gravel soil with sand and small stones resting upon a subsoil of ocean limestone.
Grapes are handpicked at their prime maturity and are carefully sorted before being taken to the winery for the crush. Gravity feed grape reception and production. Slow press of complete bunches. Light racking and fermentation in thermo regulated stainless steel tanks. Lees stirring for 4 to 6 weeks. Aged in thermo regulated stainless steel tanks. Bottled at the Château.
Vintage notes: Despite a very wet spring followed by a summer drought, meticulous work in the vineyard helped achieve an optimal maturity for the berries.