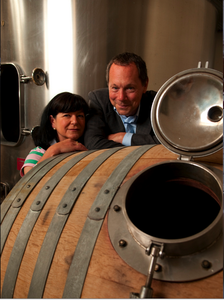 In 1989, Jean-Luc Thunevin and his wife, Murielle Andraud, acquired a small parcel of 0.6 hectare in the valley of St Emilion, between Pavie-Macquin and La Clotte. And in 1991 the adventure of Valandraud began. Since then they acquired more properties in famous locations such as Saint-Sulpice de Faleyrens and Saint-Etienne de Lisse. 3 de Valandraud is the second wine (declassified fruit) of Thunevin's famous Valandraud and Virginie de Valandraud. The wine is very representative of Thunevin's signature style: lush and opulent forward fruit, with a silken, smooth tannic structure.
JL Thunevin uses 100% new oak. His philosophy on new oak is that there is a reason used barrels are cheap... new oak is better but if the oak is not well integrated, the winemaker is at fault, not the oak (the same way that if a steak is burned, you would blame the chef, not the meat).
Farming practices: No herbicides have been used since the 90' and only a small amount of pesticides is used. Thunevin ventured in biodynamie in 2001 but that proved too difficult for the climate.
3 de Valandraud Website

Saint-Emilion Grand Cru
65% Merlot, 30% Cabernet Franc, with the remaining Cabernet Sauvignon and Malbec - the vines average 30 year old. The grapes come from 4.5 ha of clay-limestone, gravelly soils. The wine is aged 18 to 20 months in 100% new oak barrels. About 2500 cases are produced.
"It is a pleasant surprise to discover that Jean-Luc Thunevin pioneer of garage wines can produce, at an astonishing price, a wine that is as charming as it is subtle." Eric Conan, l'Express Magazine.