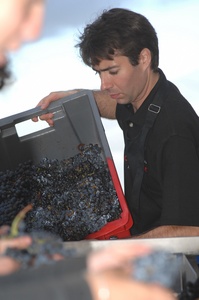 Direct from the cellar. Château Clinet is located at the highest point of the Pomerol Plateau on the famous Günz gravel terrace, origin of the appellation's most prestigious crus.
Chateau Clinet's reputation as a fine wine producer was already established by the 19thC. The property belonged to the Constant Family before passing into the hands of the Arnaud Family, who were at the same time owners of Chateau Petrus. From 1900 to 1991, Clinet belonged to the Audy family, a large Bordeaux negociant. The arrival of managing director Jean-Michel Arcaute in the early 1980s marked a real turning point in the wines of Clinet. He introduced revolutionary changes to the status quo: green harvest, leaf thinning, delaying harvest until physiological ripeness had been reached and reducing the percentage of the Cabernets in favor of the more suitable Merlot, among other important modifications. Jean-Michel Arcaute remained on as managing director after Chateau was purchased by the GAN insurance company in 1991. Respected American wine critic Robert Parker twice named Arcaute Winemaker of the Year, and bestowed the rare and coveted 100 point score to Clinet's exceptional 1989 vintage.
In 1998, Chateau Clinet was bought by Jean-Louis Laborde. He devoted all his energy and vision to pursuing the evolution inspired by the preceding owners. His son Ronan took over as general manager in 2004 and the first vintage he oversaw was the 2005. Ronan intiated the building of a new winery and chai (with state of the art grape reception and selection equipment) replanting of the vineyard in parts, and in 2011 he acquired two small adjacent Pomerol properties (3ha total) to bring Clinet up to its present size of 11.5 hectares. Ronan evolved the vineyard practice to become environmentally friendly, plowing the soil and planting grass between the rows. In the cellar, he called for more gentle extraction and less new, agressive oak. Ronan Laborde and his winemaker Roman are the youngest team in the Union des Grands Crus (both are in their early thirties). Ronan also manages Ch. Pajzos in Hungary. Barrels lose about 6-8% of their volume every year so that means about 3000 bottles or 10 barrels a year go to the angels. Lucky angels!
Chateau Clinet Website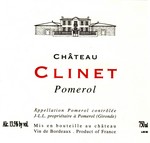 Pomerol
85% Merlot, 12% Cabernet Sauvignon, 3% Cabernet Franc - the vines average 40 year old and grow on a clay soil with a thick gravel layer and a ferriferous subsoil. The yield is a small 20 hl/ha. The grapes are hand-harvested. The wine is aged for 16 months in oak barrels,60% new and 40% one year old. 3333 cases produced. 14% alcohol.
The wines of the 2010 vintage have a very dark garnet hue, a powerful, warm nose, and an unctuous, fruity and spicy palate, with an amazing length. The acidity, which is higher than in previous vintages, promises great aging potential. 2010 is sure to be one of Château Clinet's legendary vintages.