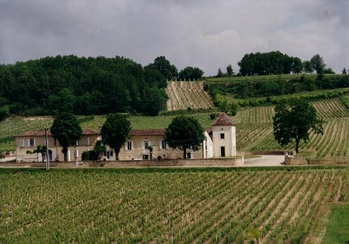 Chateau de Brousse is located in the heart of the Castillon - Cotes de Bordeaux (formerly Cotes de Castillon) appellation, which is the eastward extension of St-Emilion. Indeed, the wines were known as St-Emilionnais up until the early 20th century. The rolling hills of the Cotes de Castillon share the same limestone-clay soils as St-Emilion. The commune of Belves de Castillion, where Ch. De Brousse is situated, has the finest soils and south-facing exposition of the commune, ideal for the production of generous, full bodied, Merlot-based Bordeaux wines.
Chateau de Brousse is a very old cru which was reinvigorated in the mid-1980s by then manager Mark Dworkin of Chateau Larmande and Michel Rolland. They restructured the vineyard and improved the winemaking by installing temperature controlled stainless steel tanks for fermentation and aging in order to accentuate the wine's fruit. It was bought in 1989 by Dominique Bessineau, an industrialist from the north of France with a passion for wine and the Bordelais vineyards. Today, renowned oenologist Stephane Derenoncourt consults on the winemaking with cellar-master J-F Lalle.
Chateau de Brousse Website

Castillon – Cotes de Bordeaux
70% Merlot, 20% Cabernet Franc and 10% Cabernet Sauvignon. From 30 year old vines grown on clay/limestone soil.
Three-quarters of the Brousse vineyard (the property is about 30 ha) is on the south-facing Castillon slope, and the rest are on the plateau. The yields are kept to a low 35 hectolitres per hectare through careful pruning and the removal of excess buds in the Spring. Fermentation and maceration take place over a period of three weeks in stainless steel tanks at controlled temperature. The wine is aged mostly in stainless steel tanks (90%) with the balance in new oak casks. Ch. De Brousse is typically bottled in November of the year following harvest.
Ch. De Brousse is an exceptionally rich, deeply colored and mouth-filling wine, with flavors of plush, ripe, spicy black cherries and currants with notes of dark chocolate. The wine is ready for current enjoyment and represents an amazing value.