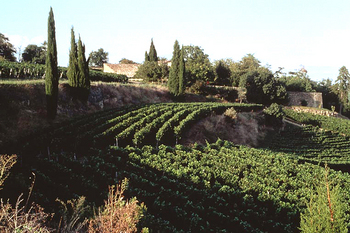 "If wines were whores, Le Tertre-Roteboeuf would certainly be a potential candidate. These lavishly rich, sumptuously-textured, hedonistic wines hit all the sweet spots on the palate." Robert Parker The property is owned by the Mitjaville. Francois is assisted by his daughter Nina, who works closely with him in the vineyard and winery.
The property has been in Francois' wife's family for a number of generations but they only sold fruit, never made wine except for the family. Francois was in the shipping business before he took over the vineyard and decided to make wine. He is basically self-taught which explains his iconoclastic manner of winemaking. He saw incredible potential in this vineyard, located next door to Pavie, up on the plateau. He started in 1978. His philosophy is to make accessible, fruit-forward wines. He wants his wines to drink well upon release so everything he does from the vineyard to the winery is towards that goal. This doesn't mean his wines lack structure but rather that the structure is always in the background, not in the attack. Francois is not averse to technology but he doesn't make "technical wines" either.
A perfect example is his use of micro-oxygenation. The typical m-o is to use this technique before the malo, for hours or days to open up the wine but it negatively impacts structure and longevity. Mitjaville uses the tool when the wine is in barrel after malo and performs it for just 10 seconds or so. According to the vintage he may do this more than once. This technique is called cliquage and does not affect acidity. This way, he avoids using a lot of the more typical remontage (pumping over) which is a more brutal approach to oxygenating the wine. During the remontage, a small device inside the bottom of the tank sprays up the juice over the cap like a fountain (this is called turbo-pigeage): it is quick and gentle. This replaces the classic way of doing remontage which is running a hose from the bottom of the tank, pumping the wine through the hose and spraying the cap over a period of time. Also, introducing small amounts of oxygen along the way produces wines that are naturally stronger and more capable of aging without being weakened by oxidation. Some call this process a "vaccination" of the wine and it is used by many of the best natural winemakers. The wines are usually filtered but never fined. Many winemakers like Mitjaville feel that fining is more destructive to a wine than a light filtration at bottling. He uses diatomaceous earth, which is the most gentle type of filtering agent.
They use a special cordon-royat training with two canes and very few buds per cane. This gives incredibly consistent fruit because the plant's energy is more evenly distributed than with other systems. This gives naturally very low yielding vines but it is a risky method because there is so little fruit to start with that if anything goes wrong, there is no backup position as there is with other training methods. Their yields are a tiny 30hl/ha, which is very low in Bordeaux. Francois would like to get up to 45hl/ha which is the norm for quality wineries in Bordeaux. There is no green harvest as there is no need for it. The blends of his wines are determined by the vineyard and all the varieties are fermented together (co-fermentation).
They do a whole berry fermentation allowing the grapes to burst under their own weight, using natural yeasts. There is no cold soak before fermentation. The fermentation lasts for about 3 weeks. After alcoholic fermentation the wine is moved to 100% new barrels for the malo. They use Radoux barrels from Tronçais oak, the finest grain in France. The total TR vineyard is 5.6 HA.
Planted to 85% merlot and 15% Cab Franc.
Clay over limestone with a SE orientation.
In a special terroir of St Emilion called La Cote Sud which is actually like a serpentine belt, a ridge, that has particular orientations of vineyards and soil types that produce some of the best wines of St Emilion, such as Pavie right next door as well as Ausone. The best wines come from these plateau vineyards that start right outside the village of St Emilion.
These soils stay cool and fresh because the clay retains enough water. This freshness is imparted to the wines so they are never heavy and dried out but rather exhibit vibrant fruit characteristics. Important to note that while clay is a superb retainer of water it doesn't stay wet forever, it does completely dry out which is important because otherwise the vine roots would never be forced to go deeper into the ground.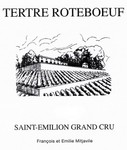 St Emilion Grand Cru