Amador Foothill Winery >
California
>
USA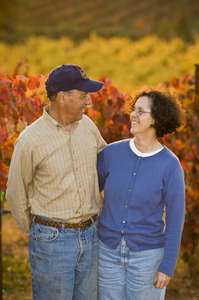 Since 1980, Amador Foothill Winery has produced wines with great balance, finesse, and value. The secret of their success is from learning to read what's going on in each specific vineyard as the fruit matures.
"There is no substitution for walking the vineyards, observing the conditions and, most importantly, tasting the ripening grapes to determine when they are literally bursting with flavor" says owner Ben Zeitman.
Katie Quinn's job as winemaker is to transform what nature provides: "I want to make wines with an Amador sense of place, unique wines that reflect their origin: the red granitic soils of our Shenandoah Valley Appellation." Katie's winemaking vision is that wines should be varietally true, tasting of their grape origins with a discrete use of oak for texture and complexity. The vivid fruit flavors of her white wines are balanced by crisp acidity, while the reds have concentrated fruit flavors backed with refined tannins. Stylistically, these are food-friendly wines that are inspired by her love for cooking.
Amador Foothill Winery Website

Sauvignon Blanc
75% Sauvignon Blanc, 25% Semillon. The grapes are from Amador's estate vineyard and the neighboring Linsteadt vineyard.
Fermented and aged in stainless steel, it has pleasing mineral nuances, crisp acidity and a lingering finish, with vibrant pear, citrus and tropical fruit flavors. Enjoy with fresh oysters, grilled fish or a lemon-seasoned roast chicken. 665 cases produced. Gold Medal Winner and Best White Wine, 2013 Amador County Fair.



Zinfandel Clockspring - Shenandoah Valley
100% Zinfandel.
Fermented on the skins 8 days, 12 months in American oak. No fining agents used.
A special section of 40 year old head-pruned vines from Frank Alviso's Clockspring Vineyard (planted in 1973) provided the fruit for this classic Amador County Zinfandel. Clockspring Vineyard is a certified organic vineyard. The fruit was handled gently through the fermentation and pressing to keep harsh tannins to a minimum. The wine was aged in American oak, but only a few new barrels were used to keep the emphasis on the vibrant fruit flavors. Lush spicy and cherry/berry aromas lead to rich cherry and raspberry fruit flavors accented with peppery spice and nuances of cocoa. Well-balanced with ripe tannins and a lingering finish, the wine can be enjoyed by itself or with food. 620 cases made.
Zinfandel presents itself in a multitude of styles throughout California not only due to variations of soil, elevation and climate, but the manner in which individual winemakers approach this varietal. Over the last several years many producers have taken Zinfandel to the extremes by fashioning wines of great extraction, jammy fruit and inky color, often with the addition of darker varietals.
Since 1980 Amador Foothill has produced what they call "Real Zin" – single vineyard bottlings that truly reflect the unique character of distinctive vineyard sites in the California Shenandoah Valley Appellation. These are 100% Zinfandels that show a true expression of this varietal.
PHILOSOPHY
- Buy from proven, older vineyards to produce wines with layered complexity that complements the fruit.
- Strive for an elegant style. The balance of fruit, spice, and tannins make wines that are easier to match with foods. Amador Zinfandels are relics of a bygone era of non-mass-produced wines.
- Keep the production of each Zinfandel very consistent in order to show off the unique character of each vineyard.
APPROACH
Mature fruit: grapes are slightly shriveled, but without pruny, raisiny character; good concentration of fruit, acid, and flavor.
Grapes are hand sorted (inspected) at the destemmer-crusher.
Minimal manipulation of grapes reduces tannins.
Cooler fermentation helps reduce tannins and increase fruit intensity.
Wines not over oaked: no more than 5% new American oak each year.
No egg white or gelatin fining, only light filtration.
Bottle aged before release.