Alysian >
California
>
USA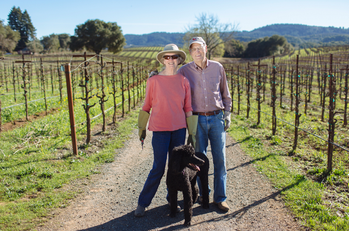 The Hambrecht family has been in the California wine business for over 35 years, partnering with esteemed brands like Ridge, Chalone, and Truett Hurst. Bill Hambrecht was among the first visionary business owners to open a winery on Healdsburg's picturesque Westside Road in 1982. Belvedere Winery marked the beginning of what would become a family tradition and commitment to producing wines of the utmost quality. It's this commitment to excellence that led to Alysian Wines. "Alysian" (of Greek origin) refers to an endeavor arising from intuitive creativity and artistic resolution.
Sourced from veteran growers and off-the-beaten-path vineyards in Sonoma County, Mendocino County, Humboldt County and as far north as Oregon's Willamette Valley, Alysian's multiple award-winning wines strike a delicate balance with flavor profiles that delight both connoisseurs and newcomers alike.
A note on the labels: Each label features hand illustrated flora by San Francisco based artist and Woody's good friend, Bryson Gill. These illustrations correlate to their specific wine, whether it be a flower commonly found on the Elk Prairie Vineyard, a Redwood tree in the Russian River Valley, or a Honeysuckle flower which is a note evident in the Viognier. In addition to these illustrations, each bottle is individually numbered, with the number shown on the front label. The font is taken from a Ben Franklin letter press making it an "original" American font. The labels are printed locally on a recycled paper stock. There is no capsule, to save on waste.
Alysian Website

Alysian Vermouth
Vermouth Bianco Bittersweet.
Alysian Vermouth is handcrafted and barrel aged for 9 months in Healdsburg, CA, with the goal of producing the best tasting and versatile domestic vermouth available. The base is a Russian River Valley Chardonnay grown and barrel fermented entirely by Woody Hambrecht. The base wine was then fortified by partner and vermoutière, Heather Hawkins, an Atlanta / San Francisco based bartender with well over a decade of experience creating cocktail menus and exploring the classics. Heather used house made tinctures, created by placing carefully sourced ingredients into locally made grape distillate for a period of time to extract their unique aromatics and flavors. Eighteen tinctures and seven steeping plants are showcased in this representation of the natural bounty of Sonoma. While most ingredients were sourced from growers and foragers within a very close area, a few ingredients are not available locally. Alysian plans to grow most of the ingredients beginning 2017. Both bouquet and palate show flowers, earth and baking spice, while artichoke and gentian resonate on the finish. This vermouth drinks like an extremely well balanced herbal tea. 17.5% ABV.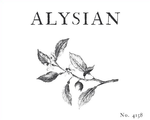 Sauvignon Blanc - Grist Vnyd, Dry Creek
The Grist Vineyard was purchased by Woody's grandparents in the late 70's. Woody oversees farming operations and lives full time on the property. In 2012 he made his first significant infrastructure decision on Grist to graft over 3.5 acres of Petite Sirah to musque clone Sauvignon Blanc. 2014 marks Alysian's inaugural year of working with this fantastic mountain fruit. This wine has distinctive green grass, lemongrass and daphne floral notes on the nose. The medium body palate carries wet stone and grapefruit impressions. Cold fermented in 2/3 stainless steel and 1/3 neutral oak barrels for six months. No RS or ml. 13.3% alcohol by volume.



Chardonnay - Russian River
Vineyards and clones: 17% Westside farms (clone 4), 59% Floodgate (Dijon Clone 76), 24% Floodgate (Dijon Clone 95). Clones 76 and 95 contribute tremendous bright acidity, crisp citrus fruit and a lean stature, while Clone 4 fills out the mid-palate with complimenting notes of honey and fresh-cut pear. 100% barrel fermented for 14 days, 25% ML fermentation (in barrel). Three cultured strains used for yeasts. Aged for 9 months in 100% French oak (Francois Freres, Rousseau), 35% new, 65% one and two year old barrels. 14.2% alcohol. Production: 607 cases.
Bright aromas of lemon zest and tangerine literally "leap from the glass" and accurately predict the lean, vibrant Chablis-like structure and flavors that follow. This wine is bursting with lemon, lime and tangerine fruit that is wonderfully staged against a subtle backdrop of oak and roasted almonds. The finish is dry, crisp and nuanced; but firmly focused on a deep core of bright, citrus-based fruits. Impeccable balance and mouth-watering acidity.



Pinot Noir - Russian River
Vineyards and clones: Floodgate (Martini clone 13, Dijon clones 667, 777), Rochioli (Pommard clone 4), Allen (Dijon clone 777), Starr Ridge (Dijon clones 115, 777), Hallberg (Cruz clone and Dijon 828). Harvest done during the night and cold fruit processed early AM, in temperature-controlled winery, hand sorted prior to stem removal and then again after stem removal. Fermented for 9 to 11 days in small open tops tanks, cold soak for 3 to 5 days, wild and cultured yeasts, 3 punch downs daily. Aged for 10 months in 100% French oak barrels (Francois Freres, Rousseau), 40% new, 60% one and two year old barrels. 13.8% alcohol. Production: 2195 cases.
Alluring scents of lavender and deep dark berry, exotic, rich flavors that mirror aromas but are enriched by accents of sandalwood, clove and black pepper. Wonderfully integrated tannins complement its structure which is mouth-filling and firm. The incredibly appealing finish is balanced, refreshing, succulent and long. A great cellaring candidate and arguably the finest Russian River Selection Pinot Noir produced to date by Alysian.


Pinot Noir - Floodgate Vineyard
From Floodgate Vineyard, Block 4, Martini Clone.
Floodgate Vineyard is located in the heart of Russian River Valley's most coveted Pinot Noir sub-appellation known as the Middle Reach. It is here where the region's most prestigious vineyards reside. This is one of Alysian's estate properties, and the future home of their new production facility. Block 4 (planted in 1971) is one of the oldest known plantings of Pinot Noir in the Russian River Valley. Though producing less than one ton per acre, winemaker Gary Farrell insists the vineyard be preserved; not only for its historical significance, but the astounding wine quality produced from these old vines.
Grapes hand harvested at night on September 13th and hand sorted in the vineyard. Cold fruit processed early AM, hand sorted prior to and after stem removal. Fermented in small open tops tanks, cold soak for 4 days. Yeast: Combination of wild and cultured. 3 manual punch down daily for 11 days. ML fermentation in barrel, 100% French oak from Francois Freres and Rousseau, 40% new. 13 months in barrels. 14.1% Alcohol. 240 cases made.
This youthful wine proves that abundance and concentration is achievable, without the excessive weight, ripeness and alcohol. Alluring aromas of violet, fresh blackberry and stone fruits lead to an array of wild berries, fresh plum and black-pepper spice on the palate. Those flavors expand and become exotic, as hints of enrichening oak and minerality emerge in the many waves of complexity. Refreshing vibrancy and supportive fine-grain tannins add further credibility and appeal to this firmly structured and wildly appealing wine. Though enjoyable now for its adolescent charms, a few years of carefully cellaring would pay great dividends.
Gary considers 2009 "the most enjoyable grape harvest" of his career. Though late-ripening varietals (Cabernet Sauvignon, Syrah, etc.) sustained significant damage from October rains, cool dry conditions prevailed throughout the entire harvest of Russian River Pinot Noir and Chardonnay. Yields were modest but quality was universally high; with exceptionally clean fruit exhibiting optimum structure and flavor profiles.



Pinot Noir Hallberg Crossroads
Hallberg vineyard (Dijon clones 777). Harvest done during the night and cold fruit processed early AM, in temperature-controlled winery, hand sorted prior to stem removal and then again after stem removal. Fermented for 11 days in small open top tanks, cold soak for 5 days, wild and cultured yeasts, 3 manual punch downs daily. Aged for 11 months in 100% French oak barrels (Francois Freres, Rousseau), 40% new, 60% one and two year old barrels. 13.8% alcohol. Production: 196 cases.
Hallberg Vineyard is ideally situated in the Green Valley sub-appellation of the Russian River Valley. This area is highly desirable for the cultivation of Pinot Noir due to its cool, breezy climate and prized Goldridge sandy-loam soils. This vineyard was developed 12 years ago by Kirk Lokka; one of Sonoma County's most decorated and highly skilled viticulturists. His commitment has always been clear: grow the highest quality fruit possible at any cost. This is another highly important, cherished relationship of the Alysian brand.
Hallberg may be the most unique and identifiable of the Alysian single-vineyard designate wines. This wine is an accurate expression of soil and place; delivering great consistency from vintage to vintage with its lavish aromas of violet and black berry, and flavor profiles focused on black cherry and plum lightly seasoned by cedar and mint. Though incredibly generous in its depth and flavor, it is the structure (brilliant acidity and finely integrated tannins) that truly completes the package. Great length in the finish of this deliciously exotic offering.



Pinot Noir Rochioli vineyard
Rochioli vineyard (Dijon clones 115, 777 and Pommard 4) and Allen vineyard (farmed by Rochioli - dijon clone 777). Harvest done during the night and cold fruit processed early AM, in temperature-controlled winery, hand sorted prior to stem removal and then again after stem removal. Fermented for 10 days in small open top tanks, cold soak for 5 days, wild and cultured yeasts, 3 manual punch downs daily. Aged for 14 months in 100% French oak barrels (Francois Freres, Rousseau), 40% new, 60% one and two year old barrels. 14.2% alcohol. Production: 1464 bottles.
"Stylish aroma of wild spice, red cherry, hint of clove, and a racy, rich mid-palate with superb acid for aging. There is a faint spice note that's hard to identify. Needs at least three years in the cellar." Dan Berger's Vintage Experiences, Volume XIV, Issue 37, November 5, 2009