McPrice Myers >
California
>
USA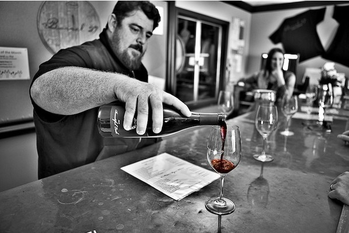 McPrice Myers specializes in Rhone style wines. Owner and winemaker McPrice "Mac" Myers prefers the winemaking style of Châteauneuf-du-Pape and strives to craft vintages that reflect similar old world complexities. Myers discovered his calling in the mid 1990's while managing a Trader Joe's in Orange County, California. After tasting through the store's eclectic inventory of wines, he resolved to learn more about winemaking. Myers began traveling to the wineries of Santa Barbara and San Luis Obispo counties, and he even volunteered to work as a cellar rat at a number of respected Central Coast producers. In 2002 Myers started making his own wine under his eponymous label. McPrice Myers is currently producing 3,000 cases a year, much of which is sold direct in his tasting room.
McPrice Myers Website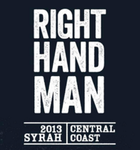 Right Hand Man
88% Syrah, 6%, Petite Syrah, 6% Viognier. Right Hand Man is a blend of Syrah from vineyards situated on the West Side of Paso Robles and in the Santa Ynez Valley, it is easy drinking and approachable. Camp Four Vineyard, Kimsey Vineyard, Hinnrichs Vineyard, and John Sebastiano Vineyard. Vinification: 3-5 day cold soak, followed by pumpovers 3 times a day during fermentation. Pressed into French, Hungarian and American oak barrels, 10% of which were new. Aged 22 months. Notes of licorice, sage, chocolate, violet, anise, leather, blackberry, grilled herbs, allspice, plum, smoke, juicy mouth feel with a velvety soft, rounded finish. 2,529 cases produced. 15% Alcohol.



High on the Hog Grenache
85% Grenache, 15% Syrah. The grapes are from vineyards situated in Santa Barbara County. It is easy drinking and approachable. 3-5 day cold soak, followed by pumpovers 3 times a day during fermentation. Fermented with 25% whole clusters. Pressed into 500 L French oak puncheons, 30% of which were new. Aged 22 months. 543 cases produced.
Tasting notes: Raspberry puree, black tea, grilled herbs, black cherry, hibiscus, rose petal, strawberry jam. Bright, broad and lifted with a generous finish. 15.2% alcohol.



Pound for Pound Zinfandel
85% Zinfandel, 10% Petite Syrah, 5% Mourvedre. Sourced from Westside Paso vineyards, this Zinfandel has a splash of Petite Syrah and Mourvedre to keep with the Rhône theme. 100% destemmed. 5-day cold soak followed by 3 punch downs a day during fermentation. Pressed into French and American oak barrels, 40% of which were new and aged for 16 months.
Tasting notes: Bramble, sweet leather, red licorice, candied cherry, red plum, cherry cola, rhubarb, vanilla, pecan pie, green peppercorn, applewood smoked bacon, spearmint. 15.8% alcohol.



Terre Blanche - Roussanne/Viognier
Paso Robles.
80% Roussanne, 20% Viognier. Terre Blanche is a white Rhone blend comprised of Roussanne and Viognier grapes grown on the Westside of Paso Robles in the acclaimed Denner Vineyard.
Fermented in French oak barrels, 15% new. Stirred the lees throughout malolactic fermentation. The wine went through 50% malolactic fermentation and was bottled after 8 months in barrel. Notes of nectarine, rose petal, marzipan, blanched almonds, anise and papaya, followed by granite/slate notes, jasmine and casaba melon. Great structure and a bright finish. 14.2% Alcohol. 347 cases produced.
Planted in 1999, Denner Vineyards is a wine growing estate on the far western border of the Paso Robles AVA. Their 156 acres press up against the Santa Lucia Range, giving the site great diversity of elevation, aspect and soil. Previously dry farmed barley; the estate is nestled into the Templeton Gap, an East/West corridor where the marine layer can reach the inland valleys. As a result they receive large diurnal temperature swings without high moisture pressure, giving us a near perfect growing climate. The 108 acres under vine are comprised of 19 different varieties in 26 unique blocks. Each block is farmed with painstaking attention to detail, allowing only for the best possible grapes to reach the winery. Aron Nevarez, the vineyard manager, is committed to environmentally friendly farming practices, using only sustainable inputs and minimal irrigation. Denner Vineyards currently uses 45 of the total 108 acres for their estate wine program. The remaining grapes are sold to ultra-premium producers here in Paso Robles.



L'Ange Rouge - Grenache
Santa Barbara County.
90% Grenache, 7% Syrah, 3% Mourvedre. The unique clone of Larner Grenache is blended with Grenache from Alta Mesa Vineyard to showcase a rich and complex blend of Grenache.
Vineyards: Alta Mesa Vineyard and Larner Vineyard.
The components of Grenache, Syrah and Mourvedre were fermented in small open top bins, with 50% whole clusters included. The wine spent 15-20 days on the skins with a combination of pump-overs and punch downs. Aged 18 months in 500 liter French Oak puncheons, bottled unfined and unfiltered. Mulberry, allspice, leather, Chinese tea, hibiscus, rose petal, mineral, fresh raspberry, fresh and dried cranberries, smoked peppercorn, long textural finish. 369 cases produced.
Larner Vineyard is a small, family-run vineyard located at the heart of the best grape-growing region in Santa Barbara: Ballard Canyon in the Santa Ynez Valley. Founded by Stevan and Christine Larner in 1997, the property is managed today by a second generation of Larners. Michael and his wife Christina Larner live onsite and Monica Larner returns regularly from her adopted home, Italy. The 134-acre ranch is planted to 34 acres of vine, including Rhône varieties Syrah, Grenache, Mourvedre and Viognier. As a small tribute to Italy, the Larners also have one block of Malvasia Bianca.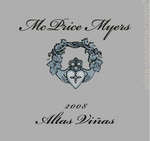 Altas Vinas - Red Rhône blend
Santa Barbara County.
43% Mourvedre, 38% Grenache, 19% Syrah. Alta Mesa Vineyard sits 3,200 feet above sea level, making it one of the highest elevation vineyards in the US. Huge temperature differentials produce fruit that is fermented into this vibrant wine.
40% whole cluster fermented in small, open top bins, followed by 20-25 days on skins with pump -overs during cold soak and punch downs during fermentation. Aged 20 months in 500, 265 and 228 liter French Oak barrels. Notes of violet, licorice, cola, rock dust, nori, lavender candy, black, mint, cherry, granite, hibiscus, milk chocolate, fresh wild strawberries, allspice, soft tannins, long spicy finish. 518 cases produced.



Beautiful Earth
79% Syrah, 13% Grenache, 8% Mourvedre. Syrah, Grenache and Mourvedre from Terra Bella, Shadow Canyon, Luna Matta and Alta Colina Vineyards complete the Syrah based Westside Paso Robles blend for Beautiful Earth.
The components of Syrah, Grenache, and Mourvedre were fermented in small open top bins with 40% whole clusters included. The wine spent 20-25 days on the skins with a combination of pump-over and punch downs. Aged 16 months in a combination of 228 and 265 liter barriques and 500-liter puncheons. 16 months in French Oak, 50% new. Sweet fruit on the front end, blackberry, smoke, dark chocolate, leather, wet stone, mint, sweet tobacco, silky texture, elevated mouth feel with cured meat on the finish. 15.2% alcohol. 1,025 cases produced.