Cambiata >
California
>
USA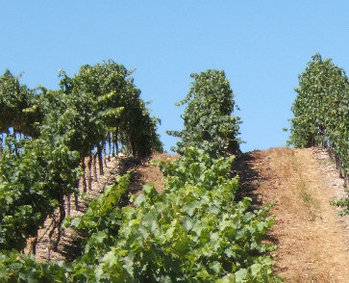 Cambiata is a small independently-owned winery. For 25 years Eric Lauman has made wine and grown grapes for quality California wineries. In 2002, following the fortunate securement of a long-term Monterey vineyard lease, he decided to produce wines under his own label. His intention was to make distinctive wines for enthusiasts who appreciate learning about and enjoying great food wines, that go beyond the Franco triumvirate of Bordeaux, Burgundy and Rhone. The current production is around 2000 cases.
There are three themes that run through Eric's life: beach, wine and music. He grew up in Agoura Hills, CA, not far from Zuma Beach. He graduated from the University of California at Davis in 1984 with a degree in winemaking. While at school he took a number of music classes and has continued to play piano throughout his life. Eric's first harvest was in 1983 at Hacienda Wine Cellars in Sonoma. His first job as an enologist was at Zaca Mesa Winery in 1984 where he worked alongside Bob Lindquist, Ken Brown and Jim Clendenen. In 1986, Eric returned to Hacienda and served as winemaker for the next seven years. His focus was on small lot, high-quality Carneros Pinot Noir and Chardonnay. Since Hacienda was such a small winery, Eric performed all tasks from vineyard management to cleaning and repairing the crusher – experiences that would prove useful later in his winemaking career. After Hacienda, Eric made wine at three of California's larger producers: Kendall Jackson, Bronco and Edna Valley Vineyard. In 2000 he moved to Santa Cruz to join Randall Grahm at Bonny Doon. "Going from a corporate environment to the Doonisphere was both a shock to the system and an invaluable learning experience. It was just what I needed." In 2002, inspired by the creative environment of Bonny Doon, Eric started his own venture and planted two varieties rarely seen in California - Albariño and Tannat – followed a few years later by a third obscure grape, Dornfelder. Those three wines, along with Chardonnay and Pinot Noir, are the cornerstones of his Cambiata brand.
Eric sites Dick Graff, the late founder of Chalone Vineyard, as one of his main winemaking influences. "Dick was one of the first Americans who emphasized the integration of wine with the culinary arts. He felt it was important to create a beautiful and gracious food and wine experience. "One of my goals at Cambiata is to produce food-worthy, vineyard-honest wines." Eric and his wife live at La Selva Beach in Santa Cruz, CA. What's in the name?
In the world of music, Cambiata means more than the literal translation of "exchange" or "changed note." It is the added tonal dimension that occurs when two chords momentarily share properties, so that the transition has greater depth and mellifluence. It was a radical idea back in the 16th century and was almost outlawed. The wines are vegan - no animal derivatives are ever used. The whites are fined with bentonite and the reds are unfined.
Cambiata Website

Albarino Monterey
Vineyard: The Albariño vineyard is planted on a windy hillside of the Monterey Lucia Mountains. Like the grape's native growing region in Spain, this location is cool and foggy. The fruit hangs till late in the season so that its natural acidity is balanced with ripe flavors.
2014 is the 10th vintage of Cambiata Albariño. With little rainfall, the vineyard was less vigorous than in 2013. Though the winery was able to drip irrigate, the plants carried less fruit and showed signs of stress late in the growing season. Overall the hillside vines responded well, achieving ripeness in a reasonable amount of time. While the wine has its usual abundance of fresh fruit aromas, it definitely has more mineral character than in previous years, which should be attributed to the austere growing season. Cambiata Albariño is fermented cold to capture as much fruit and depth as possible and aged in stainless steel.
The 2014 Albariño is seductively floral and reminiscent of ripe peaches, pears and nectarines. It is dry and crisp, but possesses enough body to be substantial and rich on the palate. The floral qualities and exquisite balance ensure that the wine matches perfectly with hot and spicy food. The crispness is right for most fresh fish and the rich viscosity adroitly lends itself to bold seafood like crustaceans or shellfish. 14.2% alcohol. 350 cases produced.



Tannat Monterey
Tannat is a native of Southwest France. Included in its resume are the big, dark, dense reds of the Madiran region north of the Pyrenees, the towering mountain range that separates France from Spain. The Tannat vines are planted in a small vineyard in the rocky and well-drained soils of the Santa Lucia Highlands. The cool climate and long growing season of Monterey County conspire to produce ripe berries with firm acids and chalky tannins.
Tannat has an incredible ability to absorb oxygen. Technically speaking, the wine is full of procyanidin tannins, which slow the aging and development process to a crawl. While today's technology has given winemakers aggressive tools to introduce oxygen, at Cambiata they do it the old-fashion way – extended barrel aging. Their 2012 Tannat took 28 months before reaching an appropriate balance between fruit and tannin. It was fermented in small open-top fermenters and pumped over twice a day during fermentation. The wine was then pressed straight to 60 gallon barrels (100% French, 40% new). The resulting wine is incredibly deep and concentrated with notes of earth, blackberries, saddle leather and licorice. On the palate it is thick and chewy with bold, well-integrated tannins. 348 cases produced. 14.7% alcohol.



Dornfelder
Talking about the Dornfelder, Eric Lauman muses: "Walk past the rows of meticulously manicured Pinot Noir and Chardonnay to the top of the McIntyre Estate Vineyard and you'll find a single acre of strange-looking vines bearing long, loose clusters of pitch black berries. "What the hell?" you mumble to the wind. "What vintner would have the cojones to plant Dornfelder in the Santa Lucia Highlands?" Turns out, we would. We figured if the grape loves Germany so much, it should thrive in the cold, windy climate of the Salinas Valley."
Dornfelder, related by marriage to Pinot Noir, is the second-most planted red grape in Germany. When grown in the right location and made with labor-intensive, artisan practices, it can produce a rich, age-worthy, red wine that offers incredibly juicy aromatics and luscious flavors. Just like the Pinot Noir, the wine was fermented in open top fermenters with frequent punch downs of the cap. It spent approximately 14 months in 100% French oak barrels (40% new) prior to bottling.
On the color chart the 2013 Dornfelder falls somewhere between stygian black and indigo blue. It is aromatically endowed with ripe berries and black fruits. The flavors are intense and juicy with soft tannins tucked well below the thick mid-palate. 14.1% alcohol. 99 cases made.