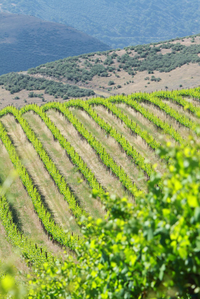 Located in Monterey Wine Country, Poppy was founded by the Silva Family, who have been diligently tending to the land of the beautiful Salinas Valley for over 45 years. In 2003, they decided to channel their passions into a carefully crafted family wine, both elegant and approachable. By controlling grapes sourcing and operating a state-of-the-art facility, Poppy combines age-old winemaking traditions with new world techniques.
When deciding on a name, the Silva's wanted something that spoke to the great state of California where their family had settled so many years ago. One day, while looking at wild poppies growing amongst the vines, the name was born. Poppy celebrates the state of California and its golden blooming flowers.
The wines are vegan.
Poppy Website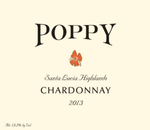 Chardonnay - Santa Lucia Highlands
Grapes for this Chardonnay were harvested off Hillside Vineyard in the Santa Lucia Highlands appellation, which is located in the Central Coast of California. The pronounced slope of the eastern-exposure vineyard provides well-drained soils. Varying level of grape maturity calls for multiple passes during harvest. The grapes were harvested with the chill of October nights and delivered directly to press with no crushing. After 48 hours of cold settling the juice was clean racked into three component programs. Program one: cold (50ºF.), slow fermentation in stainless steel tank to emphasize the fruit and acidity. Program two: fermentation in small, one to three year old barrels, at a relatively warm 65ºF with lees aging and malolactic fermentation. Program three: fermentation in stainless steel tanks with lees stirring, at temperatures ranging from 54 to 60ºF, followed by half completed malolactic fermentation. From these three programs the final blend was assembled, reflecting 80% aged on oak with 40% fermented in small barrels and 30% stainless steel only, unoaked. Partial malolactic fermentation ensures the wine will have a creamy richness balanced by bright fruit acidity.
This focused, elegant Chardonnay's aromas feature sweet golden apple, ripe citrus, tropical fruit and almond with touches of creamy yeast, vanilla and oak in the background. On the palate, the rich flavors are complemented by a light touch of toasty oak, refreshing citrus, mineral notes, and bright acidity on the finish.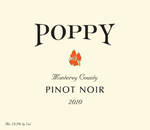 Pinot Noir - Monterey
100% Pinot Noir from Arroyo Seco.
The Arroyo Seco appellation, which literally means "dry riverbed," begins in a steep, narrow gorge at the foot of the Santa Lucia mountain range in Monterey County. Moving east, the topography widens and eventually opens up to the warm, fertile soil of the Salinas Valley. Deep in the canyon, vineyards are shielded from characteristic afternoon winds and thus experience warmer temperatures. As the canyon opens to the valley floor, the afternoon Pacific Ocean breeze cools the grapes, tempering their growth and intensifying the fruit flavors.
For the Pinot Noir to get the best extraction of flavor, while maintaining a supple and delicate mouth feel and preserving the color and varietal character, fermentation takes place at moderate temperatures with a few pump overs per day. It is followed by 2-3 days of extended maceration. It is then gently pressed, with some of the wine going straight to French oak barrels, and the balance going to tank for settling. The tank and barrel lots are rotated mid-season.
The mild spring and cooler summer in Monterey County give the Pinot Noir grapes a chance to achieve optimum maturity with great balance of acidity and flavor and with the deep color that is characteristic of Arroyo Seco Pinot Noir. The red fruit brightens across the palate, picking up raspberry and spice balanced by the French toasty oak aromas. Soft and silky through the middle, this wine finishes vibrant and juicy. 13.5% alcohol.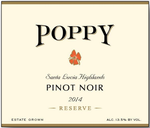 Pinot Noir - Santa Lucia Highlands - Reserve
The grapes for this wine are grown on the South/East facing slopes of the Santa Lucia Mountains. The Pinot Noir vines are some of the oldest in the Santa Lucia Appellation. The grapes are farmed sustainably, using cover crops and deficit irrigation. Because this is a single vineyard wine, great care is taken to let the grapes express their own charismatic potential.
The grapes were received with minimum processing, and about 20% are received as whole clusters. After 2-3 days of cold soaking the fermentation slowly starts. The fermentation temperature is moderate and the pump-over regime is carefully tailored to assure a good extraction of color and flavors without excessive tannins. After a gentle pressing, the young wine is settled and then transferred to small French oak barrels for aging, for at least one year. The Reserve offers distinctive aromas of raspberries, dried strawberries, baking spices and violets in a lovely coat of mocha, sweet vanilla and a splash of bacon fat resting on the plush, silky finish.



Cabernet Sauvignon - Paso Robles
100% Cabernet Sauvignon from Paso Robles.
With a greater day-to-night temperature swing than any other appellation in California, distinct microclimates, diverse soils and a long growing season, Paso Robles is a unique wine region. It provides optimal growing conditions for Cabernet Sauvignon, Zinfandel and Syrah. The grapes are coming from B & E Vineyard, a small family-owned grape growing company with utmost care for their grapes quality.
Part of the grapes went through thermovinification process and fermented together with fresh crushed grapes. The temperature of the fermentation was moderate, never hot, to preserve the fruit and to extract only moderate amount of tannins from the seeds. Aged in small French barrels for about one year and a half.
This wine displays blueberry, black cherry and currant flavors with nuances of licorice, violets and cigar box all wrapped together with a dash of vanilla and mocha. Medium to full-bodied, well-balanced, with soft tannins and a seamless finish that lingers throughout the palate. Pair with lamb and roasted meats. This wine is designed to drink well within two years of its vintage date; however it will be at its best starting around 2016. 13.5% alcohol.