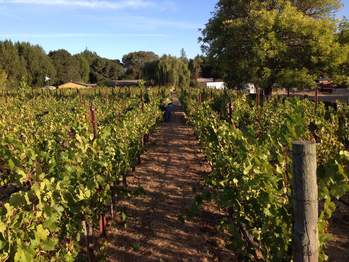 Anderson Valley is located in Mendocino County, roughly 115 miles north of San Francisco, and is approximately 16 miles long. It's a relatively narrow valley ranging from one half mile to one and a half miles wide with steep, evergreen studded hillsides and mountains on either side. Those mountains and ridges provide a stunning back drop for the rolling foothills and the bucolic valley floor. Cattle and sheep ranches, horse properties, apple orchards, vineyards and several other agricultural industries line the valley from Yorkville in the South to Navarro in the North.
The valley's main water source, the Navarro River, is fed by several large creeks and winds its way through the valley and out into the Pacific Ocean. Lining its banks and covering the hillsides are thousands of beautiful Redwood trees, many of which are hundreds of years old.
Originally planted in 1998, Balo is a small family-owned winery in the Anderson Valley. The wines are made entirely from estate-grown fruit and the mature vines, 5 carefully selected clones (115, 777, 828, Martini, and Pommard) and a world-class microclimate all come together in the bottle.
The vineyard is located at 9001 Highway 128 in Philo, California in the heart of Anderson Valley's "golden mile." Philo is the second largest town in the valley (population now a whopping 711) and is located roughly five miles northwest of Boonville. The property is comprised of slightly over fourteen acres, ten of which are plantable to grapes. When they purchased the land in 2003 there were roughly six vine acres already planted, all to Pinot Noir clone 777 with 8' x 6' spacing on 101-14 root stock. The vineyards have a combination of Perrygulch loam and Boontling loam soil types and the majority is planted on the Perrygulch soil which is known for reasonable fertility, high water holding capacity, slow run off and a low incidence of erosion.
Farming practices: organic.
Balo Website

Pinot Noir Blanc - Anderson Valley
100% estate fruit. The harvest for the Pinot Noir Blanc often takes place a week before the primary harvest for red wine. The resulting natural acidity provides a crisp framework for the tropical and stone fruit aromas that rise out of this wine. Structured layers of fresh stone fruit, white garden flowers, and baking spice give way to lemon custard and guava. Lean and dry with a lingering minerality. With a medium weight palate and a pointed finish, this is a surprisingly complex wine. Whole cluster pressed and aged in stainless steel. 13% alcohol. 142 cases produced.



Pinot Noir - Estate, Anderson Valley
100% estate fruit. Clone 777, 115, Pommard 5, Martini. 60% whole cluster pressed, aged in 35% new French oak. Forward aromas of dried cherry, baking spice, and oolong tea bend to fresh mulberry and forest floor. Dark, red fruits balance vibrant, floral notes. Ripe pomegranate, black cherry, and wild blueberry are grounded in duxelles, slate and earth. 13.6% alcohol. 454 cases produced.