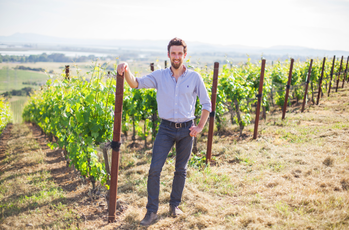 OMEN Wines are hand-crafted from high-quality fruit purchased from "hidden gem" AVA vineyards.
High on the hilltops in California sits an abandoned monastery that undisputedly has the best view of the Santa Rita Hills. It is there that Atlas Vineyard Management is lucky enough to farm what is considered to be one of the best places on the planet to grow Pinot Noir and Chardonnay. One Spring day in 2014, an AVM team member took and instagrammed a photo of the monastery. "The photo was hauntingly beautiful so we printed it out and taped it to a wine bottle. We thought it would make a great label. Visitors loved the bottle and excitedly asked if that was our own wine that we were making. After what seemed liked hundreds of inquiries it was obvious that it was a SIGN! We needed to make our own wine, and so OMEN was born. Today that original Instagram photo is still featured on our Sierra Foothills Red Blend bottle and it has inspired a series of other photos and wines that we are proud to offer as part of our OMEN line."
Winemaker Alexandre Remy hails from Rennes, France. He holds a master's degree in food science from the University of Montpellier. His desire to make wine took him to Marlborough, Victoria and Napa Valley.
Sustainability: OMEN is committed to sustainability, from the vineyards all the way to the labels, printed on 100% recycled materials. Starting with the 2015 vintage, they are only using Diam Corks, a company that not only has an amazing environmental policy and is certified by the Forest Stewardship Council®, but also guarantees closures that are cork taint free. For the vinification, OMEN partners with wineries that are within 50 miles of where the grapes are grown. The barrels used are made from French oak staves but are assembled right here in the USA. Finally, OMEN works exclusively with warehouses that support The Green Initiative Fund. The wines are vegan.
Omen Website

Pinot Noir – Rogue Valley
100% Pinot Noir aged for about 8 months in 30% new French oak. 13.8% alcohol. 1217 cases produced.
The Rogue Valley: A forty-five minute drive from Ashland, Oregon is the heart of the Applegate River Valley AVA and the Rogue Valley. It is in this isolated spot, about an hour north of the California border, that the fruit is sourced for the Omen Pinot Noir. The rolling hillsides have no coastal influence and super warm days, but are balanced by very cool nights due to the buffeting influence of the mountain range.



Zinfandel
95% Zinfandel from Fair Play Farms Vineyard in El Dorado County, 5% Petite Sirah from Element 79 Vineyard in El Dorado County.
The Zinfandel grapes grow at an elevation of 2,306ft. The high mountainside and deep granite soils give them intense flavors and structure. Fair Play AVA has a history of growing incredible wine grapes since the California Gold Rush, yet it is still a relatively unknown, untapped goldmine of high quality fruit. The Zinfandel is co-fermented with the Petite Sirah. The wine is aged for 12 to 14 months in French oak barrels, 10% new. Aromas of ripe blackberry and strawberry. Rich and focused on the palate, with a touch of spice and soft tannins. 15% alcohol. 750 cases made.



Sierra Foothills Red Blend
40% Cabernet Sauvignon (grown on limestone), 30% Petite Sirah and 30% Syrah aged in 30% new French barrels. A spicy, full-bodied red. The first vintage was 2013. 14.5% alcohol. 1455 cases produced. 100% Pinot Noir from Wooldridge Creek Vineyard in Applegate Valley Rogue Valley AVA, Oregon. The Applegate Valley (within the Rogue Valley) is characterize by many micro-climates and high soil diversity. Long, warm days accompanied by very cool nights and a very low risk of precipitation leads to wines with great depth of flavor and complexity. Each vineyard in the Rogue Valley brings unique characteristics to their fruit because of the soil diversity and high altitude (1000-1500 feet). Wines coming from the right vineyards are powerful and extremely complex. More than 75% of the grapes use for this cuvée are actually LIVE certified.
Deep, complex aromatics are accented by dark cherry and a touch of cranberry. Barrel aging (8 months in French oak, 30% new) lends vanilla notes and hints of baking spices to the flavor. The mouthfeel is rich and concentrated from the low yields & warm climate of the Rogue Valley. The wine has great depth yet is very balanced and finishes with a delicate so texture. 13.9% alcohol. 2997 cases produced. 100% Cabernet Sauvignon from Duarte-Georgetown Vineyard in El Dorado County (65%), Rorick Heritage Vineyard in Amador County (25%) and Element 79 Vineyard in El Dorado County (10%). The high mountainside and deep granite soils develop grapes for intense wines. 75% of the fruit is picked at elevations between 2,306 and 2,500 feet. The remaining 25% of the fruit is picked from the outstanding Rorick Heritage Vineyard property (literally a canyon inside the mountains) in Murphys, CA. The diverse soil here is rich in iron, decomposing granite and limestone (a unique combo in California). Yields are lower than in Napa Valley (<2 tons/acre) packing some deep concentration and depth.
Aged for 12 months in French oak barrels, 30% new. From spices to cassis and dark cherry notes, the complexity of the blend transcends into subtle notes of leather and dark chocolate. The mouthfeel is rich with luscious and elegant tannins. A very bold and powerful wine that is still approachable and balanced. 1950 cases produced. 14.5% alcohol.