Wilson & Wilson >
California
>
USA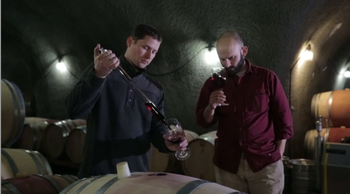 Wilson & Wilson is a single varietal production, with Cabernet Sauvignon as the grape of choice. Winemaker Alan Viader has an intimate knowledge of the vineyards, often walking the rows of vines, checking the canopies, monitoring soil composition and water usage, all to ensure the the best decisions possible are made for the grapes.
Ted Wilson: Ted has spent his entire professional life in the wine business. His career path began in vineyards and cellars in the Finger Lakes of Upstate NY, which then careened him up the ladder to working as a Sales Rep for a NYC-based distributor and later becoming the Senior V.P. and Director of Operations for that distributor. During his time as the Operations Director, Ted oversaw the production of an "in-house" brand that he helped grow to over 2,000 cases annually and increased distribution across multiple states. His varied wine industry background, from the winemaking process to executive positions, was driven by his ultimate goal: to launch a brand and apply all his skills and past experiences into a label he could call his own. That dream has been realized with the launch of Wilson & Wilson, a family endeavor, driven by a shared family passion to celebrate great wine, great food and the growth of a community of friends.
Alan Viader: Born in Argentina and raised in the Napa Valley, Alan has been exposed to every aspect of the wine business, including visiting his first French cooperage and oak forest at the age of 12. Being the son of a winemaker led to his early education in wine tasting and wine evaluation, which sparked his respect for terroir-driven wines and the many diverse viticultural practices seen all around the world. In 2002, Alan was offered the opportunity to manage the vineyards at VIADER. From there, he continued to push the envelope and adopted organic and biodynamic viticultural practices while working with enologist Michel Rolland in hopes of improving his family's property. Alan's philosophy and approach to viticulture is simply, "the wine is made in the vineyard".
He has worked under many expert winemakers throughout his lifetime starting with Tony Soter alongside his mother Delia helping in the winery at the age of 9 years old. In 2006, Alan started dedicating his time to both vineyard management and winemaking, as the Director of Operations, responsible for the 2005 wines at VIADER. Alan is married to wife, Mariela, a trained Chef that also owns her own chocolate company. Alan and Mariela have two young boys, Matthew and Jonathan and happily live in the Napa Valley among the vines overlooking the Stags Leap district.
Philosophy
"We believe that great grapes make great wine, and that a great wine finds harmony in its balance, elegance and refinement of character. We're inspired by the "Old Napa" Valley of the late 70s, 80s and early 90s, when pioneer winemakers made Cabernet Sauvignon wines that were true to the varietal characteristics of the grape, and where intervention in the fields and winemaking process was kept to a minimum. Producers of those decades looked to the "Old World" style wines of Bordeaux for inspiration. For us, the wines of "Old Napa" have set a new benchmark and Wilson & Wilson aims to recapture and revive the styles of those pioneer Napa Valley Cabernet Sauvignon producers."
Wilson & Wilson Website

Cabernet Sauvignon - Napa Valley
In 2012 the grapes were sourced from the Wycoff Ranch in Calistoga, CA. These grapes lend bright and fresh red fruit character and a superb zippy acidity, giving the wine a vibrant mouthfeel. And also from The Boodeaux Vineyard up in the back hills of St. Helena and a special, small lot in the Oakville AVA. The Boodeaux Vineyard fruit was a small yield, giving W&W about one ton per acre of intensely concentrated fruit, deep black showing elegant brown spice flavors. Grapes from the Oakville plot lend nice ripe fruit and tannic structure, and are the backbone for the 2012 Wilson & Wilson vintage.
Aged for 18 months in 80% New French oak (Taransaud & St. Martin).
Wilson & Wilson 2012 Cabernet Sauvignon shows bright, gorgeous colors of rich violet with ruby hues. On the nose, aromas of purple flowers, cassis, cherry, and dark red berries are enhanced by pronounced spices of sweet roasted tobacco, anise, red licorice and nutmeg. Subtle hints of violet, wet turned earth, cocoa and chocolate round out the aromatics. The palate delivers, concentrated red fruits and brown spices mingled with bitter chocolate, lavender and almonds, culminating in a silky, balanced long finish. The wine has a firm structure and shows a balance of great acidity with high but firm already integrated fine tannins. Wilson & Wilson is ready to drink today and will age gracefully for 10-15 years in the bottle. 14.3% Alcohol. 240 cases produced.