Dutton Estate Winery >
California
>
USA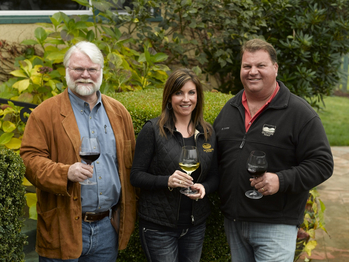 Dutton Estate Winery is in the Green Valley AVA in the Russian River Valley located near the small charming town of Sebastopol. Once a dominant apple-growing region, Sebastopol is now a destination hide-away and home to the winery's founders, Joe and Tracy Dutton.
Joe and Tracy's agricultural heritage is deeply rooted in Sebastopol, as Tracy's great-grandparents began farming apples in the 1920's and today continues growing apples and grapes at the family's recognized farm and food production facility, Kozlowski Farms, in Forestville. Joe is co-owner of Dutton Ranch, which was founded in 1964 by his parents. Today, Dutton Ranch farms 1300 acres of grapes and 250 acres of apples, all within the Green Valley-Russian River Valley and Sonoma Coast appellations. Both Joe and Tracy valued their experience growing up and wanted a business that their three girls could be part of. Joe is a driving force in the vineyards and continues to manage the vineyards at Dutton Ranch. Tracy oversees the winery and the three girls can be seen helping out at events.
Dutton Estate wine program began with the 2002 vintage. They farm over eighty unique, separate vineyards located in the cool areas of the Russian River Valley, primarily in the sub-appellation of Green Valley. The line was designed to showcase the Dutton's love for single vineyard wines that reflect the individuality of each vineyard site. Opting for low-impact winemaking techniques helps bring out the true taste of the vineyards. All wines (a total of 10 to 11 cuvées) show the terroir of the estate vineyards. Farming practices: The Duttons safeguard the health of their fruit while limiting chemical applications and other intrusions on the natural farming process. They employ an entomologist who visits every vineyard weekly, alert to leaf hoppers, mites, sharpshooters or other unwanted pests. They consider the history of each ranch, the legendary coastal fog and other climatic trends, and the population of native insect predators. Then they make a choice for the lowest-impact intervention that will still achieve results.
As the Duttons expand to new ranches, they often find themselves cleaning up after the sins of others, clearing creeks and hills of old cars and other debris. They make erosion control a constant priority. And recycling plays a major role at Dutton Ranch. Into the bins go all glass, plastic, paper, oil, batteries and card board. Joe Dutton is a board member of the Gold Ridge Resource Conservation District, and the ranch plays host to regular seminars on such topics as sustainable farming.
Dutton Estate Winery Website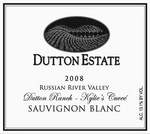 Sauvignon blanc - Kylie's Cuvee, RRV
Kylie's Vineyard (recently grafted to the Musque clone of Sauvignon Blanc) is located at the Home Ranch west of the town of Graton in the Green Valley-Russian River appellation. This is one of the coolest sites planted to Sauvignon Blanc in California.
The grapes are hand sorted then gently whole cluster pressed. The juice is cold settled, transferred into stainless steel tanks and slowly fermented with cultured yeasts at fifty degrees for 14 days. This cool temperature allows the wine to ferment one brix per day to retain a fresh and fruity character. After fermentation the wine is moved into neutral oak barrels where it is aged for 5-6 months. It is then racked off the lees and prepared for cold stabilization in stainless steel tanks. No malolactic fermentation (enhancing the crisp acidity of the wine). The wine is fined and filtered prior to bottling, in September 2013.
An elegant and seductive wine which opens up to a floral nose. Classic sauvignon blanc with notes of passion fruit, fuyu persimmon, lemon grass, honey suckle and the slightest hint of tarragon. The flavors echo the aromas with passion fruit, citrus zest and honey suckle. Well balanced from smooth and silky to lean and crisp. The melody of flavors finish long and dry, refreshing the palate and begging for more. Pair with a spicy dish or creamy goat cheese. 14.3% alcohol. 366 cases produced.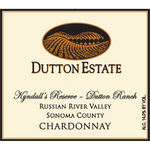 Chardonnay - Kyndall's reserve, RRV
Dutton Ranch selected their favorite estate vineyards to craft a wine reflecting their vision of a signature Russian River Valley Chardonnay. Vine Hill Ridge Vineyard planted to Robert Young Clone creates floral aromas, gives flavors of subtle tropical fruits, and delicately balances Russian River's crisp apple and pear extractions.
Whole cluster pressed, 100% Malolactic. Aged 10 months in French oak barrels, 30% new oak with the remaining in barrels up to 3 years old.
Aromas of vanilla, honeycomb and nougat, notes of lime, fresh kiwi, apple, and grapefruit on the palate, with the faintest touch of oak. The finish is long with citrus flavors and nutty bread crust. Exquisitely balanced from entry to finish. This wine sings out for fresh crab! 14.5% Alcohol. 311 Cases produced.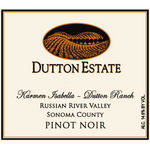 Pinot Noir - Karmen Isabella, RRV
Made from three of Dutton's favorite estate vineyards, this Pinot Noir is named after the Dutton's youngest daughter and is a blend of reserve barrels.
The fruit is hand stored, gently de-stemmed, then placed into small open-top fermenters. The must is cold-soaked for 5 days to gently extract spice and fruit characters, while softening harsher tannins. Punch down by hand three times daily. After fermentation, the individual lots are pressed and racked into French oak (33% new) to age for 10 months. Each barrel for this reserve bottling of 2011 is carefully selected, then blended with the others to allow the wine to marry and settle before bottling. Bottled in August 2012.
This deep ruby red colored wine starts off with a nose full of floral scents which evoke a rose garden. It brings an abundance of flavors including bright cherry, honey and raspberry. Crisp and alive with a mineral structure to go along and just the right acidity to round out this complex wine. 14.2% alcohol. 1286 cases produced.