Smith-Madrone >
California
>
USA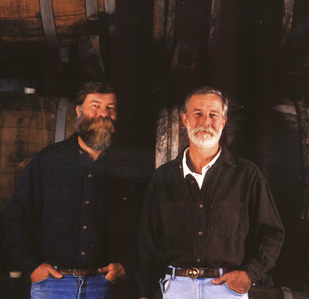 Artisanal. 100% estate vineyards. Mountain vineyards in one of the most historic and scenic spots in the Napa Valley. That's Smith-Madrone. Smith-Madrone is a family-run estate-bottled winery dedicated to producing fine wines exclusively from its own vineyards. In 1971, 200 acres were purchased high atop Spring Mountain, west of St. Helena, in the Napa Valley. One of most beautiful appellations of the Napa Valley, the Spring Mountain District was recognized by the B.A.T.F. in May of 1993. Charles and Stu built the winery by hand, using stones and lumber from the property. A cellar and the main floor house French and American barrels. The roof of the building is used for entertaining. It has stunning 360-degree views of the floor of the Napa Valley and the Sierra Nevada Mountains in the distance, as well as of Smith-Madrone's own steep dry-farmed vineyards. Another striking historical and visual note is the dramatic corridor of 22 Picholine olive trees which descend the slope below the winery into the vineyards. More than a hundred and twenty years old, these trees were carefully preserved when the vineyards were re-planted. Their huge proportions (some stretch as tall as 35 feet) are a testament to their struggle for precious mountain sunlight. Smith-Madrone is located at elevations between 1,300 and 1,900 feet; the vineyards straddle slopes of up to 35%. The vines flourish in vividly red and rocky volcanic soil known as Aiken loam, which is well-drained and friable. In exploring the property before purchasing it, Stuart Smith discovered old grape stakes interspersed with the tall trees, evidence of a vineyard planted in the 1880s and abandoned with the onset of Prohibition. Douglas fir, oak, redwood and madrone trees were cleared, and the vineyards planted. The year 1972 marked the beginning of the vineyard itself with the planting of Chardonnay, Riesling, Cabernet Sauvignon and Pinot Noir (the last grafted to Chardonnay in 1989). Unusual for North Coast viticulture at the time, the initial twenty acres were planted on their own roots. The cooler mountain climate is an additional factor which produces grapes of intense flavor, structure and longevity. Today the vineyard consists of 38 acres in various stages of production dating back to 1972. In addition to the 9 acres of Riesling, 7.5 acres of Chardonnay and 15 acres of Cabernet Sauvignon, the vineyard now has 2.5 acres of Cabernet Franc and 3.75 acres of Merlot. Stuart Smith chose specific slopes with different exposures for specific varietals: eastern exposure for the Riesling, southern and western exposures across flat stretches for the Cabernet Sauvignon; the coolest north-facing slopes for the Chardonnay. The history of international viticulture also supported his early belief in the potential of these mountain grapes which would have to "struggle" to produce. Drip irrigation was used to establish the vineyard but today it is mostly dry-farmed. The vines send their roots deep to search for water and nutrients, only producing the precise amount of fruit exactly appropriate for their vigor, small berries with a large skin-to- juice ratio. The name for the winery has two sources: as a tribute to the Smiths who pursued their dream and to the Madrone trees which distinguish the property. "It sounds better than Smith-Douglas Fir, Smith-Manzanita, Smith-Oak and certainly Smith-Poison Oak. The Madrone was a predominant tree on the property when we began," Stuart Smith explains. "We had so much physically and emotionally invested in the development of the vineyard and the winery that we selfishly wanted our name on it. Smith is not exactly a grand Mediterranean wine name, and certainly we couldn't call it just "Smith Winery." Somehow Smith Madrone had a nice ring to it..." He continued that the personality of the Madrone figures into this as well: "The Madrone tree never stands out, alone, in the forest; it's always clustered for shade and protection with others." Since the first vintage in 1977, winemaking practices have been a blend of the traditional methods of France and Germany coupled with new techniques developed in California. Such winemaking processes as barrel fermentation, sur lie aging and open top fermentations require substantial amounts of hand labor but are essential to the production of wines of great quality. Less than 4,000 cases of wine are released each year, similar to Europe's small estate wineries. Smith-Madrone's goal is to make artisanal wines which are distinctive and are an expression of both the vintage and the vintners, but above all else, are wines which bring pleasure to the senses. Every year their wine is made from the same estate vineyards, pruned by the same people in the same way, cultivated in exactly the same manner and harvested at similar levels of maturity, yet Mother Nature stamps each vintage with a unique set of flavors, senses and character.
2013 Vintage notes: "Something interesting happened following the nearly perfect 2012 growing season: it happened again! The spring and summer of 2013 provided nearly textbook weather for grape growing. As the saying goes, it was neither too hot, nor too cold, it was just right. There was a noticeable absence of unseasonable weather events and one beautiful week followed another. After the challenges of 2010 and 2011 it seemed only fair that we should have two such splendid years back-to-back. What wonderful symmetry."
The wines are vegan - no animal derivatives are ever used.
Smith-Madrone Website

Chardonnay - Spring Mountain
100% Chardonnay from 42 year old vines.
100% barrel fermented, aged for 9 months in 100% new French oak. Estate grown and dry-farmed. 850 cases made.
Refined and delicious, this wine offers aromas of apples, pear and almonds, hinting at the bâtonnage and barrel fermentation it underwent. This is a big, toasty Chardonnay with a creamy mouthfeel, tangy and appealing acidity. Remember these Chardonnay grapes are mountain grown, with those very specific types of tannins which can handle lots of oak and then promise a long life.



Riesling - Spring Mountain
100% Riesling from 42 year old vines, estate grown and dry-farmed. No malolactic fermentation and no oak. 1551 cases made, 12.8% Alcohol. 7.6gr RS. A nose of honeysuckle, orange blossom, crisp citrus fruits and minerality is followed by touches of white peach and pear. The wine is very dry, smooth, discreetly elegant with a bright acidity and a silky mouthfeel. The aftertaste lingers on the palate with a refreshing zing of crisp citrus fruits. This wine is made from mountain grown grapes, honoring the international tradition of Riesling which thrives on steep hillsides.



Cabernet Sauvignon - Spring Mountain
82% Cabernet Sauvignon, 12% Merlot and 6% Cabernet Franc from 41 year old vines, estate-grown and dry-farmed. Aged for 18 months in French oak barrels - 75% new, 25% one year old. Unfined. 1388 cases made. 14.2% Alcohol.
Smith-Madrone's Cabernet Sauvignon is grown at the top of Spring Mountain (1,800-foot elevation), west of St. Helena in the Napa Valley. The vines are planted on very steep slopes (up to 35%) in red "Aiken" soil which is derived from weathered volcanic materials and sedimentary rock. The underlying geology, the Franciscan mélange, is just 500 miles long and was created by the Continental Plate grinding off the top of the Pacific Plate as it sub-ducts under the Continental Plate.
Black cherry, oak and black pepper on the nose precede a layered, rich palate, where soft tannins are the backbone for flavors of forest floor, cloves, savory herbs and cassis. A long and complex finish persists with notes of loam and red fruits. These grapes grow on slopes of up to 30% at an elevation of almost 2,000 feet: this mountain pedigree insures deliciously integrated tannins and a long life span.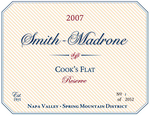 Cook's Flat Reserve
This is a limited production wine of 140 cases created by the careful selection and blending of a small group of the best barrels the vintage has to offer. In 2010 this means the wine is 75% Cabernet Sauvignon and 25% Cabernet Franc, aged for 19 months in 100% new French oak from the forests of Troncais, Nevers and Allier. Following barrel aging, it rested for more than a year in the bottle before its release on December 5, 2013. Coincidentally, George Cook purchased the property on December 5, 1884 and the Volstead Act (ending Prohibition) was repealed 49 years later on that same day in 1933.
Each numbered and tissue-wrapped bottle of Cook's Flat Reserve represents our uncompromising pursuit of perfection in winemaking. The tissue is a copy of the U.S. Land Office patent, signed by President Chester A. Arthur, granting ownership of the land to George Cook. That original document hangs in the winery and is an important part of our history. We chose this name in tribute to George Cook, the first owner of the property and the person who originally planted the vines here in the 1800s.
The wine opens with an intense, seductive aroma of dark fruit – black currant, blackberry, black cherry – tinged with mocha, spice and licorice. Spending a few minutes inhaling the 2010 Reserve is a compelling experience - the aroma is a little piece of heaven all its own. On the palate the wine goes from strength to strength, fulfilling the heady promise of the nose. This is a sumptuous wine, rich and creamy in texture and crammed full of delicious dark fruit. The layered mid-palate moves seamlessly to a finish tinged with raspberries and cherries, and is marked by exceptional length. And, as good as the 2010 Cook's Flat Reserve tastes right now, we believe cellaring the wine can only improve on perfection. Website