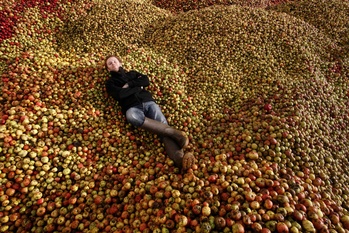 See press for Roger Groult CALVADOS Jean-Roger Groult is one of the finest distillers in Calvados. His domaine, "Clos de la Hurvanière" is a beautiful farm located in the hills of the Pays d'Auge, in St Cyr du Ronceray. It is family owned for eight generations and focused on the sole production of Calvados for five generations, using the best quality cider mostly from their own orchards.
Groult has 23 hectares of orchards, planted with more than 5600 apple trees and 30 of the 50 varieties of apples allowed in Pays d'Auge for the production of Calvados including: Bedan, Noël des Champs (sweet apples), Antoinette, Frequin Rouge (bitter apples), Bisquet, Moulin à Vent (bittersweet apples), Rambaud, René Martin (acid apples). The apples mature at different times and are harvested from the end of September to mid-December from the family's orchards and those in the immediate vicinity in order to conserve the regional style. All are hand sorted and only the healthiest are kept. They are left to mature for a couple of weeks after harvest and before pressing for added complexity. Around 40 pounds of apples are needed to make a liter of calvados. An apple tree takes 15 years to produce and can stay in production for 80 to 90 years if healthy. Groult does not use any pears, although the law in Pays d'Auge allows up to 15%.
The apples are pressed and the juice is made into a cider that reaches 6-7%, using only natural yeasts. It is aged for an entire year (most producers only age their cider for the required 6 weeks). The distillation is through traditional small copper pot stills warmed with wood fire using the same methods as previous generations to produce a calvados of unmatched flavor and complexity. The first heating of cider in the alembic produces the intermediary alcohol named "petite eau" (small liquor) of 30% vol. The second distillation is the "proper heating" (la bonne chauffe) and produces calvados of 70% vol. on average. For both distillations, the heads (the most volatile alcohols) and the tails (the heaviest ones) are cut and only the best part, the heart (le coeur de chauffe) is kept.
Groult does not believe in vintage dating his calvados but rather in blending various years to make a more complex spirit. The age designation of each cuvée represents the youngest spirit in the blend. He only uses very old Limousin oak barrels (most more than 100 years old); no new barrel has been bought in the past 30 years as Jean-Roger does not want wood tannins to hide the fruit.
Groult uses a solera system for aging the calvados: the barrels are never totally empty to keep roots of older calvados for each blend (for example, the Calvados Réserve 3 Years is blended with 7 year calvados) and to maintain a consistent style. The size of the casks varies from 110 liters to more than 13,000 liters with most of the barrels around 1,500 to 2,000 liters. When the cellar master considers that the blend has reached maturity, part of it is bottled and the rest is kept as part of the stock.
Roger Groult Website

Calvados Reserve - Pays d'Auge (3 years)
Minimum of 3 years, up to 6 years.
Pale colour with a pronounced apple aroma, this young Calvados is appreciated for its great freshness. Works well in cocktails - try it with some Tonic for a refreshing drink.
40% Alcohol.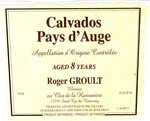 Vieux Calvados - Pays d'Auge (8 Years)
Minimum of 8 years, up to 16 years. Bright color combined with copper and amber nuances. Entry is green apple-like, mid-palate is like a baked apple tart with a little spice. Elegant, persistent, with a refreshing intensity. 41% Alcohol.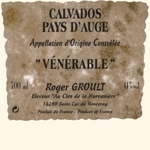 Calvados Venerable - Pays d'Auge (20 Years)
Minimum of 20 years, up to 50 years. An orangey copper color with intense reflections and spicy notes, this full bodied but subtle Calvados is the perfect balance between the freshness of the apple and the wood aging. 41% Alcohol.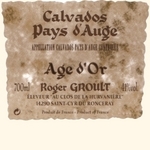 Calvados Age d'Or - Pays d'Auge X.O. (over 30 Years)
Minimum of 30 years, up to 60 years. Originating from the cellar of Jean-Roger's father, this Calvados offers a myriad of complex flavors ; its long finish is silky, rich and vibrant. 41% Alcohol.