Normandin-Mercier >
France
Since 1872, five generations have contributed to the development of the prestigious Normandin-Mercier Cognacs. The family has built its fame by perfecting the art of blending and aging cognacs in an exceptional geographical site. Concentrating solely on cognacs produced from both the Petite and Grande Champagne, Cognac Normandin-Mercier is based in the beautiful surroundings of Chateau de la Peraudiere. Today, this family run cognac house is headed by Edouard, Jean-Marie and Audrey Normandin, who together strive to ensure their products are created with the personal touch and expertise for which the brand has become renowned.
What makes Normandin-Mercier unique?
The Crus: For decades, the family Normandin-Mercier has been buying young cognacs from the same handful of top producers exclusively in the crus of Petite Champagne and Grande Champagne.
The Grapes: Normandin-Mercier cognacs are made with about 90% Ugni Blanc, and 10% of Colombard and Folle Blanche, a very rare and unique blend compared to other cognacs.
The Cellars: Normandin-Mercier cognacs are matured in the family chateau's traditional cellars near the town of La Rochelle, the historic medieval port that made Cognac famous many centuries ago. The proximity of the ocean, the natural regulation of hygrometry and oceanic temperature all favor the aging of the cognacs, giving them fullness, elegance and a distinctive character.
It is important to note that Normandin-Mercier cognacs contain no artificial coloring and are not subject to a cold filtration in order to preserve a total purity of the aromas and flavors.
Normandin-Mercier Website

Pineau des Charentes Blanc
Two thirds of white freshly pressed Ugni Blanc grapes, and a third of one year old cognac. The blend is then aged in oak cask for four years. It can be enjoyed chilled as an aperitif. Vegan.



Cognac Petite Champagne VSOP
7 years minimum: Brilliant, clear, beautiful and luminous golden amber color and look. Subtle floral nose, honeysuckle and violet. Subtly spicy with a touch of licorice. A lively cognac perfect for long drinks and cocktails. Vegan.



Cognac Fine Champagne Prestige
15 years minimum: Blend of Grande Champagne (brings sharpness and length) and Petite Champagne (subtlety, delicacy and sweetness). Flavors of fruits, almond and plum with a rich and fat, but clean finish. Aged 2 years in 350L new barrels, then moved a 600L barrels. Vegan.



Cognac Grande Champagne XO
30 years minimum aging. Vegan.



Christmas Cognac Petite Champagne cask strength, 45%, barrel #8007
It is only one barrel that Edouard Normandin is reserving for that Christmas Cognac, so just around 200 bottles. Vegan.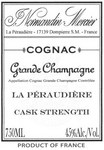 La Peraudiere Cognac Grande Champagne
It is a special cuvée that was created to celebrate the 140th anniversary of the house:
"From our cellars, we have selected this 'Grande Champagne' Premier Cru of 1992 to celebrate the 140th anniversary of our business, founded in 1872. Its uniqueness lies in the fact that it has been aged in authentic casks, made by the best Cognac coopers; using hundred-year-old oak trees from our estate 'La Péraudière' which were chosen in 1989 for the exceptional subtlety of their grain. The staves were left to dry in the open-air for three whole years, and from these wonderful casks 'La Péraudière' cognac was born. Limited series of 1000 bottles." Vegan.